Constantelos Poetry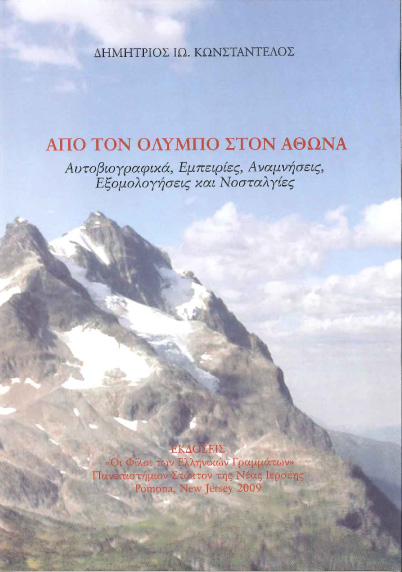 Thanks to everyone who turned out at the recent poetry reading! The moving event was a great success. Proceeds from books sold there will go towards scholarships.


When Professor Emeritus and ICHS co-founder Rev.Dr. Demetrios announced his retirement, it is safe to say that many assumed that meant a life of rest and relaxation, free of course schedules, editors, paperwork and running from engagement to engagement. He appears to have a definition of 'retirement' completely unknown to the rest of the world.

In 2009, an article of his (and one by former Stockton professor Alexander Alexakis [currently at Ioannina University in Greece]) appeared in the German-published book, Byzantine Realia; another scholarly work to add to a long list of achievements.

What came next though was something of a surprise as all who know him know the professor, scholar, cleric, author, fundraiser and community builder. The 'retiree' obviously turned out to be mythical, and no one knew anything about a poet!

Indeed, his most recent book, a collection of autobiographical poetry entitled From Olympus to Athos: Autobiographics, Experiences, Memories, Confessions and Nostalgia, is a journey through the 'seasons' of his extraordinary life.

The book, published in Greek, is exclusively available in the United States through the Friends of Hellenic Studies and the Interdisciplinary Center for Hellenic Studies, for $10. We have been able to secure only a limited number of copies however, so anyone interested in obtaining a copy should contact us at ichs@stockton.edu. All proceeds from the book will go directly to the organizations (FHS & ICHS) the author himself helped co-found. Please note that we have a limited number of copies available.

NOTE: An excerpt, along with English translation, is included in the current issue of the Hellenic Voice. For information on how to subscribe to our mailing list (free), get the Hellenic Voice (also free) or become a member, please contact us.