Stones from God
Stones from God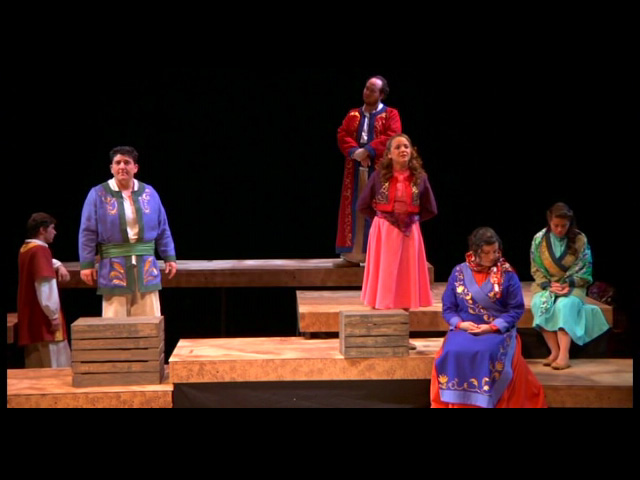 This past spring, the Theater Arts Program presented as its main stage production, Stones From God, a collaboration between two Stockton faculty members, playwright and director, Professor Pamela Hendrick, and Ottoman historian, Professor Tom Papademetriou.
Based on true historical accounts of a people torn from their homeland, the production offers a vision of life in Cappadocian villages, deep in the heart of Turkey.
The production presents a forgotten history of villagers' humor and song, passion and concerns, and deep faith as they navigate life among their fellow Greek Orthodox, Armenian and Muslim neighbors.
The dramatic rendering explores the human condition before the violent rupture of the 1923 Treaty of Lausanne that uprooted more than a million and a half people. Greek Orthodox were forced to move to Greece and Muslims were forced to Turkey, in spite of the fact that each community never had a connection to the places they were assigned.

The collaboration between playwright and historian is based on research on Cappadocian churches and communities. Papademetriou's National Endowment for the Humanities (NEH) funded project works in Turkey each summer to document Ottoman period churches in Cappadocia left behind, forgotten and now in ruins. Hendrick expertly adapted for the stage the true human voices gathered by Papademetriou which he researched at the Center for Asia Minor Studies in Athens, Greece.
In June 2010, Stones From God goes international to Istanbul, Turkey. Stockton students will travel and perform as part of a Stockton international scholarly symposium on Greek Orthodox Religious Culture in Ottoman Anatolia directed by Papademetriou. The Stockton Interdisciplinary Center for Hellenic Studies (ICHS) symposium will be held in the idyllic setting of Heybeliada-Halki, a rustic island where horse and carriage are the only form of transport.

This is the second international program of Stockton's ICHS. In 2008, Stockton students performed Eugene O'Neill's Desire Under the Elms in Delphi and at the University of Athens as part of the Stockton ICHS International Symposium on The American Experience of Delphi.