Additional Locations
Now in your neighborhood...
We're bringing academic offerings to convenient locations in Ocean, Atlantic and Cape May counties. We're integrating a range of academic offerings, from continuing education to undergraduate and graduate courses in settings close to your home and work. Stockton, now better than ever...
Stockton University Atlantic City

The new Stockton University Atlantic City campus is conveniently located at the intersection of Atlantic, Albany and Pacific avenues, with apartments for over 500 students overlooking the beach and Boardwalk.
From shopping and restaurants, the art district, local attractions, entertainment and the famous Atlantic City Boardwalk, students will immerse themselves in the local scene, participate in service-learning and community engagement projects.
Visit Stockton University Atlantic City
Kramer Hall, Hammonton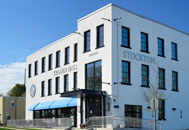 At Kramer Hall in Hammonton, you'll find undergraduate and graduate academic courses along with continuing and professional education opportunities. The facility features state of the art classrooms, seminar rooms, a computer lab, and an Art Gallery.
Stockton University at Manahawkin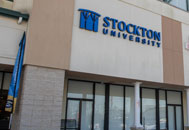 Students now enjoy a wide variety of academic courses in a new, state of the art location in Ocean County. Students may begin or continue their course work here. Stockton University at Manahawkin offers academic courses throughout the year, including summer months.
Research & Outreach Centers
Arts & Entertainment Venues

Anne Azeez Hall,Woodbine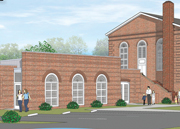 Stockton University's Woodbine Instructional Site in Cape May County encourages lifelong learning by providing opportunities for personal and professional growth. Anne Azeez Hall addition officially opened in April 2013, adding to Stockton's range of convenient locations.