ETTC Gets $444,445 Grant to Promote K-12 Computer Science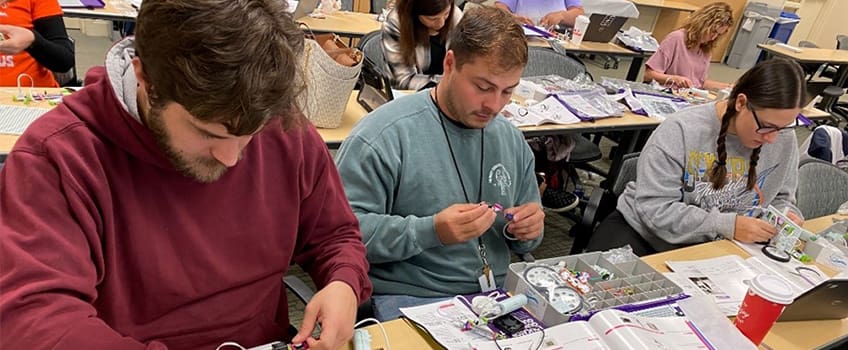 Galloway, N.J. — Nearly 400 K-12 teachers across South Jersey have been introduced to computer science during the past school year through the establishment of a regional hub by the Educational Technology Training Center (ETTC) at Stockton University.
The center will continue to train teachers this year thanks to a recent $444,445 grant from the state, said Patty Weeks, the director of the Southern Regional Institute and ETTC at Stockton.
"Teachers explore Unplugged Computer Science, Physical Computing, Robotics, Artificial Intelligence and the new student learning standards for computer science in New Jersey," Weeks said. "The teachers love it because they learn that it's not just about coding. It's about teaching their students to first consider a problem and then to find a solution. It isn't always about writing a line of computer code."
The hub was created last year with an initial $333,313 state grant to fulfill a mandate by Gov. Phil Murphy in 2020 to "expand access to high-quality, standards-based computer science education for all New Jersey K to 12 students." Beginning with the 2022-23 school year, all students had to have access to computer science coursework, which created the need for a network of educators across the region.
It's about teaching their students to first consider a problem and then to find a solution. It isn't always about writing a line of computer code."
Weeks said the second year of funding for the
CS Coastal Hub at Stockton University
started providing free training to teachers in May. Workshops will be available during the summer and into the 2023-2024 school year. Teachers also receive on-site instructional coaching in their classrooms and participate in an online community where they will share ideas about teaching and learning computer science across all grades and content areas.
Weeks said the free workshops are open to any teacher from any district, but the hub has also partnered with three specific districts this year to receive additional on-site support during the grant period — Egg Harbor Township, Folsom Township and the Greater Egg Harbor Regional High School District.
"In today's digital age, computer science has become an essential skill for everyone. Computer science teaches students how to approach problems logically and systematically," Weeks said, "and it can also be fun to develop and design new solutions to everyday problems."
Learn more about the Coastal Hub for Computer Science by visiting the program's website and see a schedule of upcoming events. For questions or more information send Patty Weeks an email.
The SRI & ETTC at Stockton University is one of the premier professional development programs in the state. Nearly 10,000 educators participate in its programs and activities each year in topics that include technology integration, core curriculum, instructional strategies, school leadership, special education and social and emotional learning.
# # #
Media contacts:
Stacey Clapp
Director of Strategic Communications
Stacey.Clapp@stockton.edu
609-626-3645
609-412-8069
Mark Melhorn
Associate Director of News and Media Relations
Mark.Melhorn@stockton.edu
609-652-4593
609-569-6026
stockton.edu/media