New BOT Student Fellows Named for Spring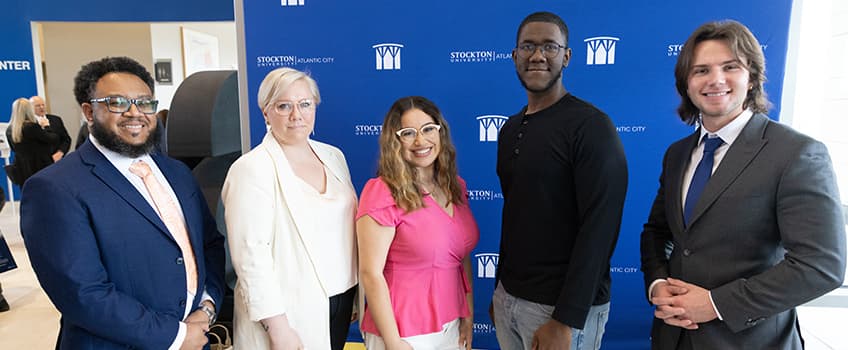 Galloway, N.J. – Six students were awarded the Board of Trustees Fellowship for Distinguished Students at the May board meeting.
The program supports student-initiated projects of undergraduate research and/or creative work in keeping with the educational philosophy and mission of Stockton University. Fellowship awards up to $1,000 each are provided semi-annually.
Ian Bouie, director of Academic Achievement Programs, believes that this year's cohort was more than deserving of their fellowship.
"I could not be more pleased with the awardees of this semester's Board of Trustees Fellowships for Distinguished Students," Bouie said. "Not only do we have a group of diverse recipients, but their projects touch upon a variety of significant topics including STEM research, civic engagement, and social justice. This incredibly talented group of students created outstanding proposals, and the Division of Student Affairs, as well as the entire campus community, is looking forward to seeing the results of their efforts later in the Fall 2023 semester."
The spring cohort of BOT Student Fellows and their projects are:
Jessica Nash, a junior majoring in Social Work
Project:

SMART Textbooks Online Community

The cost of college textbooks has grown exponentially over the last two decades. These expenditures, compounded by college tuition inflation, correlate with the increasing number of students experiencing financial hardship and food insecurity. Having to choose between food, other basic needs and course material is unjust, and we must provide feasible options. The proposed project would create and maintain the Student Mutual-Aid Reselling and Trading Textbooks (SMART Textbooks) Online Community, a nonprofit space for students to buy, sell and trade their used textbooks.

Advisor: Rachel Kirzner, associate professor of Social Work
---
Jordan Harvey, a senior majoring in Biology
Project: Inspiring the Next Generation in the Sciences
This project aims to inspire inner-city Black and brown youth to pursue science by providing opportunities for them to engage in hands-on science projects, interact with science professionals, and learn about potential careers in science. The initiative will create a safe and inclusive learning environment that encourages all students, regardless of their background or gender, to pursue their interests in science. Based on the interests and goals of the students, hands-on science projects will be designed that are engaging, challenging and fun.
Advisor: Margaret Lewis, professor of Biology
---
Kimberly Sanchez, a senior majoring in Social Work
Project:

Family Fiesta

Family Fiesta is an event that is created for first-generation Latino/x students and families. Students are highly encouraged to bring their families out to this event to have lunch, play games, meet our staff and more. The purpose of creating this event is to increase the understanding of families regarding their first-generation college student(s). Topics that will be discussed include the workload students manage, mental health resources on campus, dining, student involvement, etc. The importance of discussing these topics is essential for this population since there has been an increase in Latino/x enrollment. Producing this program will highlight the student's sense of belonging, student-to-family bonding and family engagement, which then contributes to an increase in student retention rates.

Advisor: Luz Allen, Counseling and Psychological Services counselor
---
---
Project: 21st Century Libraries: Reinstating the Library as a Fundamental Piece of Our Culture
In light of recent technological advancement, libraries have undergone a major transformation from a place where books are kept to a hub for information and knowledge. The integration of physical and digital resources has been a significant factor in this transformation. Overall, the project aims to showcase the importance of modern ingenuity and timeless qualities working together in libraries to provide efficiency with a rich and diverse range of resources. It will also explore the challenges libraries face in this digital age and offer recommendations on how libraries can overcome these challenges to meet the evolving needs of their patrons.
Advisor:Jessica Chamberlain, Access and Engagement coordinator for the Richard E. Bjork Library
---
Olivia Lovett, a senior majoring in Sustainability
Project: Determining the Feasibility of Creating a Food Policy Council
While New Jersey's Food Desert Relief Tax Credit Program aims to tackle food insecurity by using tax credits and grants to incentivize businesses to open and maintain grocery stores, food policy councils are a more inclusive method of tackling the same issue. Food policy councils include stakeholders from across the food system and are often perceived as political entities. However, these food policy councils mainly focus on community projects rather than policy work. My project aims to conduct a food policy audit in Pleasantville, New Jersey, a known food desert, to determine the feasibility of establishing a food policy council.
Advisor: Maritza Jauregui, associate professor of Sustainability
---
Project: Developing New Antimony (Sb) Based Complexes for Optoelectronic Applications
The purpose of this project is to develop new metal complexes using inexpensive materials for their applications such as phosphors and chemical sensors. Specifically, we design and synthesize new tin and antimony complexes by utilizing exchange reactions and studying their optical, structural and electrochemical properties. Crystal growth is one of the most important parts of this project because only high-quality crystals can be analyzed by using single-crystal X-ray diffraction to determine molecular structures. We will purchase new chemicals and equipment to grow high-quality single crystals. Such luminescent phosphor compounds have been developed for many applications in medicine and the environment. Their light-emitting properties can aid in our energy crisis by using a new phosphor that is cost-effective and environmentally friendly with improved endurance.
Advisor:Wooseok Daniel Ki, associate professor of Chemistry
Learn about Fall 2022's Student Fellows
Ana Edmondson, interim assistant vice president of Student Transition, Access and Retention within Student Affairs, said she and the selection committee are amazed at the diverse projects proposed by the applicants every year, but she is particularly pleased about the diversity of project advisors for this cohort.

Fall student fellows: Stephanie Kusi Bamfo, Gurtej Singh, Mary Rose Keane and Elizabeth Myers.
– Story by Loukaia Taylor
– Photos by Susan Allen