ENVL Essential Learning Outcomes (ELOs)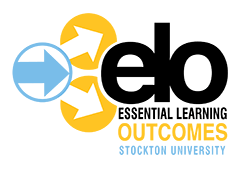 Stockton University's 10 Essential Learning Outcomes (ELOs) combine Stockton's flexible and Stockton's ELO logo distinctive liberal arts education with real-world, practical skills. They guide all Stockton University students from first-year through graduation to the intellectual and marketable talents needed to prepare for personal and professional success in the 21st century. As a set of values shared by everyone in the campus community, students encounter opportunities to develop ELOs in all Stockton majors, career preparation, professional experiences both on and off-campus, and academic as well as social activities.

Program excellence
Students will:
Understand the basic structure and function of the global environment and environmental problems, policies and practices.
Be able to communicate these ideas effectively to decision makers, professionals, and the public.
Critical Thinking
Students will:
Be able to interpret and evaluate all sides of an environmental issues.
Continually update knowledge and skills as appropriate to deal with changing information and changing threats to the environment.
Generate creative and novel ideas for solving pressing environmental issues.
Global Awareness
Students will:
Be knowledgeable about key environmental issues and perspectives as well as social and governmental structures at scales from local to global.
Be aware of your own cultural and ethical values and principles of stewardship to environmental issues.
Be sensitive to the diverse cultural, aesthetic, moral, and religious values of others.

Quantitative Reasoning and research skills
Students will:
Be able to apply the scientific method to environmental problems.
Be able to interpret quantitative data from the literature and apply mathematical and statistical techniques to research.