Welcome Week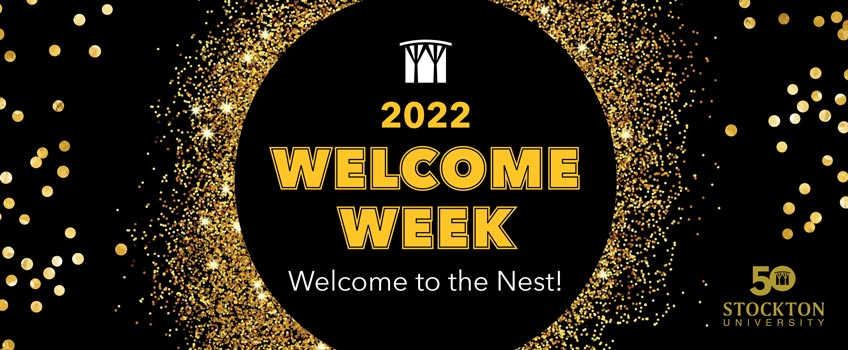 Welcome to the Nest, Ospreys!
Welcome Week programs are designed to help you embrace Stockton as your new home- providing new opportunities for you to learn, build connections, and grow into your best self. Now that new students have decided to commit to Stockton, Welcome Week is intended to unify the incoming class as they take their next steps together in committing to the following actions/goals: 1) connect to other students, staff, and faculty during programs provided during Welcome Week and the academic year 2) contribute to a more safe, inclusive, and welcoming community, and 3) complete your degree at Stockton.
University guidelines on COVID-19 response will be followed, and can be found here.
---
Welcome Week Schedule Fall 2022
All new students are invited to attend all events noted on your Welcome Week schedule, as they will open new doors for you to meet your peers, help you become familiar with the institution, and show you how to safely and successfully acclimate to the campus community. Some events are mandatory for all new students no matter if you are a first-year student, transfer student, commuter, or residential student, and attendance will be taken.
A detailed Welcome Week schedule will be added to this webpage during the summer, but all new first-year and transfer students should save Welcome Week dates on their calendars:
Friday September 2, 2022- Monday September 5, 2022
Learning Outcomes:
Identify practices and resources that promote safety, health and belonging at Stockton University.
Identify practices and resources that will help students successfully engage and navigate new or unfamiliar circumstances.

Identify practices and resources that will help students develop an understanding and appreciation of cultural and human differences and their role in promoting social justice in society.
Frequently Asked Questions (2021)
---
---
View photos on Flickr
Osprey Fest 2019 Photo Gallery
Previous schedules from Welcome Programs can be found on our Welcome Program Archive Page.
---
Questions may be sent to studenttransitions@stockton.edu or by calling the Office of Student Transition Programs at 609-626-3643.
For questions about accessibility or to request an accommodation, please contact the Office of Event Services and Campus Center Operations at 609.652.4878 or event.services@stockton.edu at least 5 business days in advance of your participation or visit.