Nuestro Pueblo Awards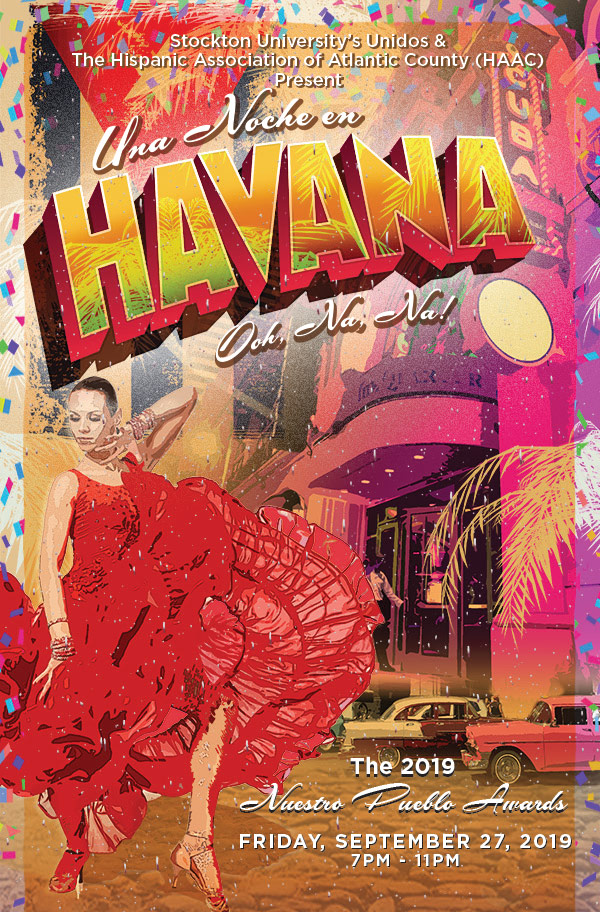 2019 Nuestro Pueblo Awards - Havana Nights!
Friday, September 27, 2019
7:00 PM - 11:00 PM
Stockton University - Atlantic City
Fannie Lou Hamer Room | 3711 Atlantic Avenue, Atlantic City, NJ
Please RSVP by September 13, 2019.
Tickets are $45 per person. Cuban Cocktail Attire. Cash Bar. Net Proceeds will benefit the Unidos and HAAC Scholarship Funds.
Corporate sponsorship opportunities and advertisements for the program book are available!
Submit an Ad for the Program Book
---
For more information, please contact
unidos@stockton.edu
Mission
The Mission of the Nuestro Pueblo Awards celebration is to promote community involvement and advancement of our Hispanic cultural heritage by recognizing individuals and/or organizations that are making a difference in "Nuestro Pueblo" (our community).
ANNOUNCING THE 2019 NUESTRO PUEBLO AWARDS HONOREES!
Arts and Entertainment -Mauricio "DJ Sammy" Baquero
Community Service – Ms. Edbelinda "Mimi" Nambo, Catholic Charities
Education – Mr. Jonathan Rivera, Atlantic City High School
Entrepreneurship – Mr. Evan Sanchez, Authentic City Partners
Future Leader – Mr. Christian Cabrera, Stockton University Class of 2023
Healthcare – Ms. Ivette Guillermo-McGahee, Allies in Caring
Nuestro "Amigo/a" – Mr. Jay Sodha, AC Multicultural Community Center
Organizational "Amigo/a" - AtlantiCare Mission Health Care (FQHC)
Public Service – Ms. Rosa Farias, NJ Department of Community Affairs
STEM – Mr. Robert Ortiz, AtlantiCare
Lifetime Achievement in Education - Dr. Arnaldo Cordero-Roman, Stockton University
---
Nomination Criteria
1. Nominee(s) do not have to be Unidos or HAAC members to be eligible. Board members are not eligible for nominations.
2. Within each category, nominees must have evidenced demonstrable involvement and service to the Hispanic community
3. Nominee(s) for the Future Leader award must be in High School or has recently graduated, be of Hispanic heritage and has demonstrated excellence both in and outside of the classroom and in his/her community.
4. Nominee(s) agree to allow Stockton University's Unidos and HAAC the right to use their award winning status publicly on public and private media platforms including their photograph and biography.
5. Nominee(s) agree to be present at the Nuestro Pueblo Awards event in order to receive their Award.
---
FAQ