Dance at Stockton - Dance Company Residency & Guest Artists
Fall Dance Company Residency
Residency canceled due to Covid19

For two weeks in the fall, Stockton hosts a professional dance company. This company teaches classes, choreographs a work on dance students, and performs in the PAC at the end of their residency.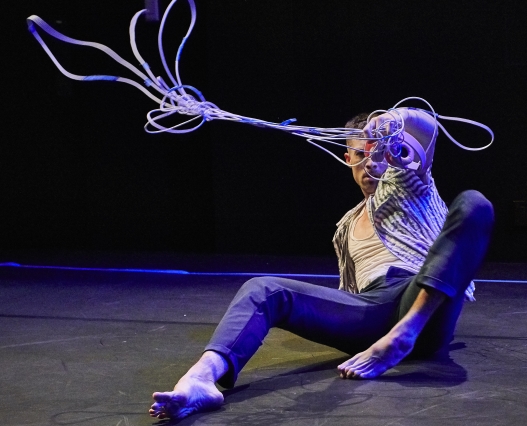 The Dance Company Residency, which is in its seventh year, engages with Stockton students and with the community around Stockton. Through classes for dance students, students in general studies courses, and open classes, the resident company teaches movement and discusses what it is to be an artist in today's world. The residency culminates in a performance of the company in Stockton's PAC!
Due to Covid19, the Dance Company Residency is canceled for AY 2020-2021.

---
Guest Artist for Stockton Dance Company
Stockton Dance Company's Guest Artist for the Spring Dance Concert in March 2021 is Saleana Pettaway, a distinguished Master Teacher in the Umfundalai Technique by the Institute of African Dance Research and Performance and is sought-after for national conferences and universities for her intense training practices and the gift of empowering dancers to embody the historical, social-cultural and aesthetic traditions of African-based dance forms.
Saleana Pettaway will create a new choreographic work on select Stockton Dance Company Members as well as teach master classes to Stockton students.
Umfundalai is a contemporary African dance technique that comprises its movement vocabulary from dance traditions throughout the Diaspora. The literal word, Umfundalai, means "essential" in Kiswahili. Kariamu Welsh, Umfundalai's progenitor, has designed a stylized movement practice that seeks to articulate an essence of African – oriented movement or as she describes, "an approach to movement that is wholistic, body centric and organic."
---
Master Classes for Stockton Dance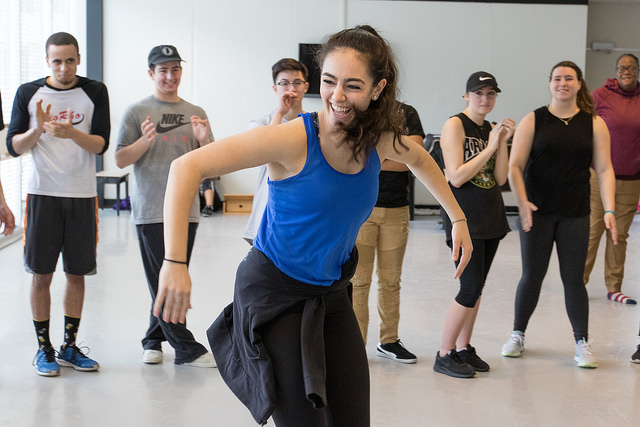 Besides the Dance Company Residency and our Guest Artists, Stockton brings in various professionals for master classes throughout the year. Previous master classes have been in modern, partnering, ballet, jazz, tap, hip-hop, and many others.
---
Previous Guest Artists and Master Classes
Caroline Fermin, New York, NY

Gallim Dance, Brooklyn, NY

Dance Now! Miami, Miami, FL

Lehrer Dance, Buffalo, NY

Meredith Rainey, Pennsylvania Ballet

Dawn Marie Bazemore, PhilaDanco

Julie B Johnson, Independent Artist

Scott McPheeters, Subcircle

Julius Carter, Broadway performer (

Spiderman, On The Town

)

Jenna Riegel, Bill T. Jones/Arnie Zane Dance Company and David Dorfman Dance

Edward Rice, Third Rail Projects and Alexandra Beller/Dances
Tiffany Mills Compay, New York, NY

Starr Foster. Richmond, VA

Robert Moses' KIN, San Francisco, CA

Bryn Cohn, New York, NY

Raphael Xavier, Philadelphia, PA

Melissa Chisena, Richmond Ballet and Chisena Danza

Ellie Goudie-Averill, Stone Depot Dance

Lauren Putty White, PhilaDanco and Independent Artist

Jae Hoon Lim, Koresh Dance Company

Rebecca Stenn, Rebecca Stenn Dance Company and Pilobolus

Michael Spencer Phillips, Rioult Dance

Amy Marshall, Amy Marshall Dance Company

Marjorie Folkman, Mark Morris Dance Company

Erin Pasko, Hip Hop Performer