Hospitality and Tourism Management Studies
Bachelor of Science Degree in Hospitality and Tourism Management Studies. Our program, housed within the School of Business at Stockton, is committed to delivering a relevant and dynamic curriculum with a strong business core.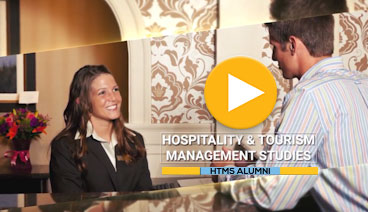 In addition to the coursework, our program provides students with insights from industry leaders, tours and employment opportunities that connect the curriculum to the ever changing world of hospitality and tourism. The hospitality and tourism faculty is dedicated to educating and mentoring students throughout their educational and work experience at Stockton.
In 2010 the Stockton University purchased the Seaview Hotel and Resort and our program integrates the facility and its management team in our courses and projects throughout each semester. Several of our courses are taught on property and employment and residential opportunities exist at the hotel for our students.
Program Coordinator:
---

Dr. Michael Scales
Professor
Office: G-131
Phone: 609-626-6838
Email: Michael.Scales@stockton.edu
---
Program Details
The Hospitality and Tourism Management Studies Program offers a B.S. degree. Earning a Hospitality and Tourism degree at Stockton will well prepare students with both substantial general training and specialized skills that will distinguish their credentials. Rather than students narrowing their studies to a single aspect of the industry, Stockton's broad-based curriculum will afford more professional options.
The Hospitality and Tourism Management Studies Program at Stockton University is committed to providing a quality undergraduate education that incorporates theory and practice in the hospitality industry.
Our mission is to imbue students with the knowledge, skills, values, and strategic perspectives essential to obtaining leadership roles in the service professionals throughout the world; and to foster research and scholarship that will engender excellence in Hospitality and Tourism Management Studies.
Curriculum Information
Fall 2017 - Spring 2018
Fall 2015 - Spring 2016
Fall 2014 - Spring 2015
Career Paths
Hospitality and Tourism Management Studies

Hotel Operations

Food and Beverage Operations

Travel and Tourism

Food Services in Industry and Healthcare
---
Hospitality And Tourism Management Studies Learning Goals

Additional Program Information
---