Faculty - Approaches
#10GlobalLearningWays Flyer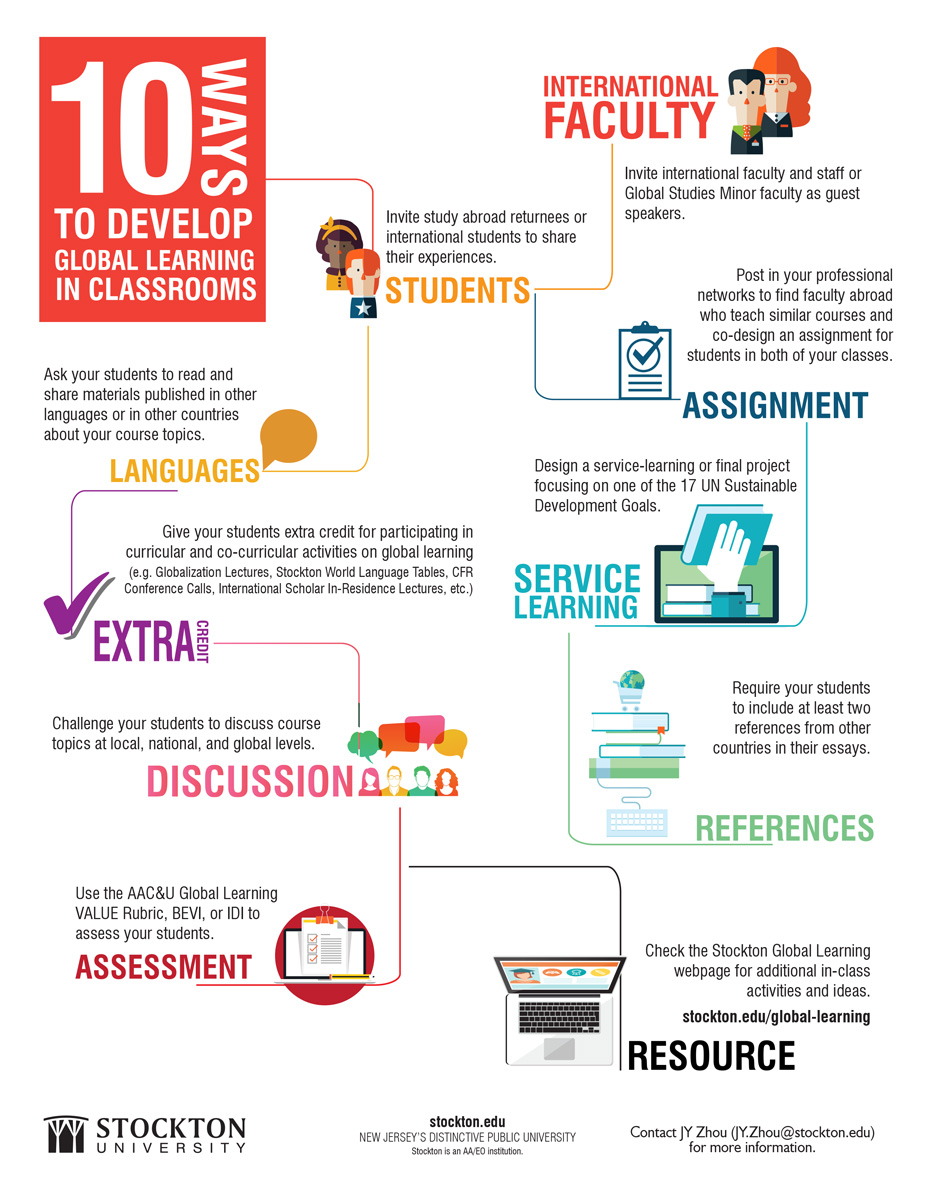 Approaches to Globalizing the Curriculum
Being the outcome of comprehensive internationalization, global learning should be systematically and purposefully designed throughout a student's academic and life experience.
Four collaborative global learning approaches have been designed and developed to globalize the curriculum at Stockton University:
Approach 1: Cultures and Languages Across the Curriculum
Approach 2: Collaborative Online Global Learning
Approach 3: Community Engagement and Service-Learning
Approach 4: Co-teaching/designing and communication
These approaches:
highlight the interdisciplinary, creative, and innovative nature of global learning
emphasize the close connections between faculty, students, and community
underline the essential and extensive roles of world languages and technology to advance dialogs across disciplines, boundaries, and

borders

provide specific ideas and methods of globalizing the curriculum from revising just one section, an assignment, or an activity of a course to (re)designing a complete course with a global learning focus on course content, instruction strategies, learning outcomes, and assessment
Approach 1: Cultures and Languages Across the Curriculum (CLAC)
Knowledge exists within and is shaped by culture and, therefore, just as materials in many languages and cultures can and should be incorporated into all parts of the curriculum, global awareness can and should inform the teaching of academic content in many curricular contexts. That is, to integrate language and cultural components into all aspects of curriculum across disciplines.
The three rules are:
building from existing resources/ skill + match all stakeholders' interest and the opportunity to meet our 2020 plans objectives and essential learning outcomes;
applying global perspective to all subjects; and
enhancing all students' experience and knowledge – without going abroad, students can achieve global awareness as well.
Read more of CLAC appraoch at Cultures and Languages Across the Curriculum (CLAC) Consortium.
Dr. Zhou is available and happy to visit your class, talk about utilizing students' linguistic and cultural skills to complete various course assignments and project, and support your students in completing these assignments and projects. Please see the in-class presentation - Research with a Multicultural / Bilingual Perspective - that she prepared for Dr. Priti Haria's EDUC 2241 Educating Children with Special Needs. Please contact Dr. Zhou for her availability.
If you are interested, you may watch Dr. Zhou's talk at University of Colorado Boulder at: Cultures and Languages Across the Curriculum: An Effective Approach to Globalizing the Curriculum.
Example 1
Dr. JY Zhou, Internationalization Specialist
Bi-weekly assignments and group discussions:
Students are expected to find and read materials in other languages/countries about the bi-weekly topics before class and participate in the in-class CLAC discussion, including answering questions individually and in a group.
Topics include: citizenship education, stereotype of Americans, modern art, diaspora, elderly care, and environmental issues.
Read more of Dr. Zhou's CLAC approach at AAC&U News April 2017 -- At Stockton, Global Learning Moves beyond the Classroom and into Daily Lives.
Examples 2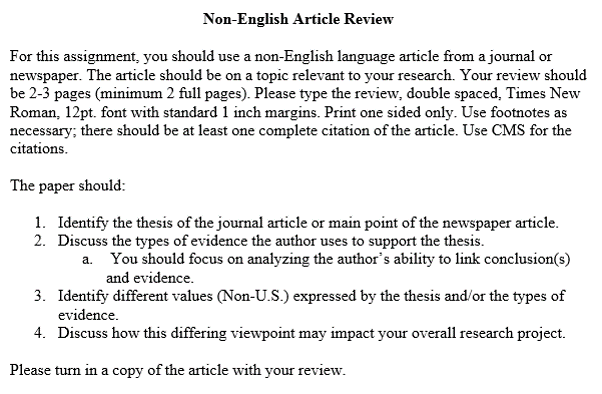 Example 3
Dr. Kaite Yang, Assistant Professor of Psychology
Course objectives in Adolescent Psychology:
Culture blog assignment and discussion:
Find a news article on adolescence in a different country
Summarize the article and identify concepts and processes discussed in class
Present and discuss the article in small groups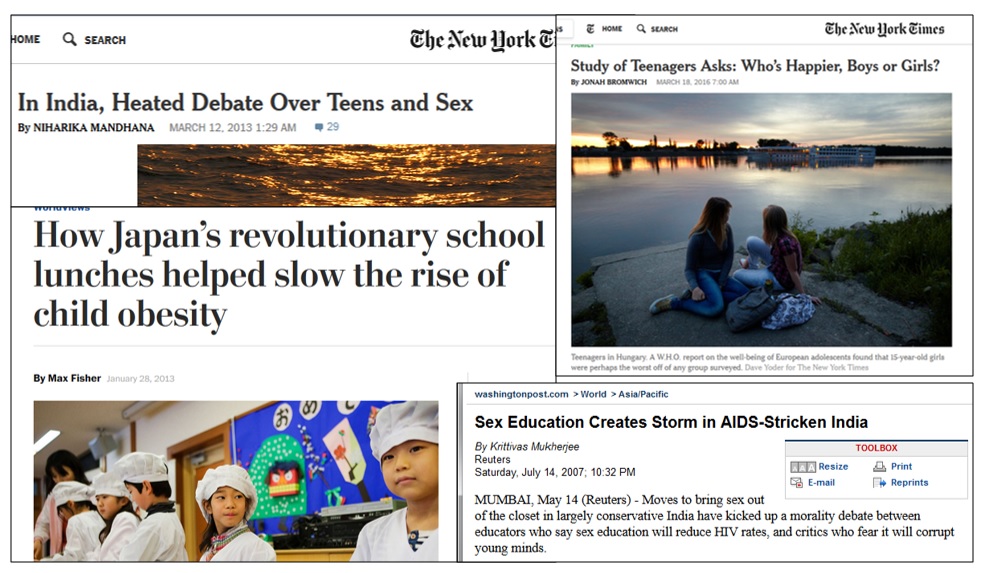 Approach 2: Collaborative Online Global Learning
Being a driving force of globalization, technology has expanded the boundaries of traditional classrooms and provided a variety of opportunities in connecting our students with the world and enhancing their global learning skills.
This can be decided by various levels of collaborations between faculty members as well as students.
A typical example is to facilitate interactions between our students and students in international institutions, via collaboration between respective faculty. It is intended to bring the valuable transformative intercultural communication to all students at Stockton. It might be like:
Synchronous lectures delivered jointly by both faculty
Synchronous guest speakers with follow up group reflection activities
Asynchronous group projects via social media platforms
After-class group assignment from two classes and joint presentations
Peer review of students work in other classes
Recorded guest speaker presentations as a catalyst for asynchronous follow-up group discussions
Example 1
Go Global Online course (AASCU's Global Challenges Curriculum)
The materials used for GSS 1236: Go Global -- a summer online course taught by a group of faculty members -- are developed and maintained by the American Association of State Colleges and Universities (AASCU) Global Engagement Initiative, which is part of the larger National Blended Course Consortium (NBCC) that includes Stewardship of Public Lands, Economic Inequality.
Please see the Go Global resource information for faculty (2015-2016).
Please contact Dr. Tina Zappile, the Stockton representative for AASCU's Global Engagement Initiative and Associate Professor of Political Science for any questions.
Example 2
Dr. Amy Ackerman, Associate Professor of Instructional Technology
Global Partnership Assignment
Please see the draft of this assignment.
Approach 3: Community Engagement and Service Learning
Global learning is a set of skills, and students are encouraged to develop their global learning skills in service-learning and civic engagement projects.
Example 1
Dr. Kaite Yang, Assistant Professor of Psychology
ELS-PSYC collaboration / ELS Service-Learning Project
Goals
Promote global engagement in the Stockton community
Provide conversational English language practice for ELS students
Learn about how adolescent experiences are similar and different across the world
Learn techniques for positive interactions with international students and non-native English speakers
Structure: Initial mixer event --> Reciprocal interview
Assessment: Interview transcript and self-reflection paper

Example 2
Dr. Ramya M. Vijaya, Professor of Economics
Each year, students in Global Studies minor capstone course 'Global Challenges and Solutions course', GIS 4658, are involved in service learning projects in partnership with organizations working on issues of global concern. In the spring 2017, a group of students organized the Oxfam Hunger Banquet on campus to raise awareness about global hunger and inequalities in the food distribution system. This year's event included a collaboration with Campus Kitchen. A groups of students volunteered with Campus Kitchen after being inspired by their attendance at the Hunger Banquet. A second group of students worked with the local Amnesty International group and Narenj Tree Foundation, a refugee relief organization. They organized a screening of the film 'Salam Neighbor' to raise awareness about the refugee crisis. The students also lead a well-attended discussion around refugee issues after the film screening. In addition, this group also raised funds for Narenj Tree through multiple bake sales through the semester and researched and put together, with the help of the local Amnesty International chapter, a petition to expand refugee intake in the US. Group members have continued their involvement with Narenj tree after the semester with visits to the Narenj Tree warehouse in Pennsylvania to help with organizing and loading relief supplies for shipment. Students have also continued their involvement with the local amnesty chapter. In previous years students organized a Day of Refugee awareness event.
Below are the posters of some previous service-learning projects: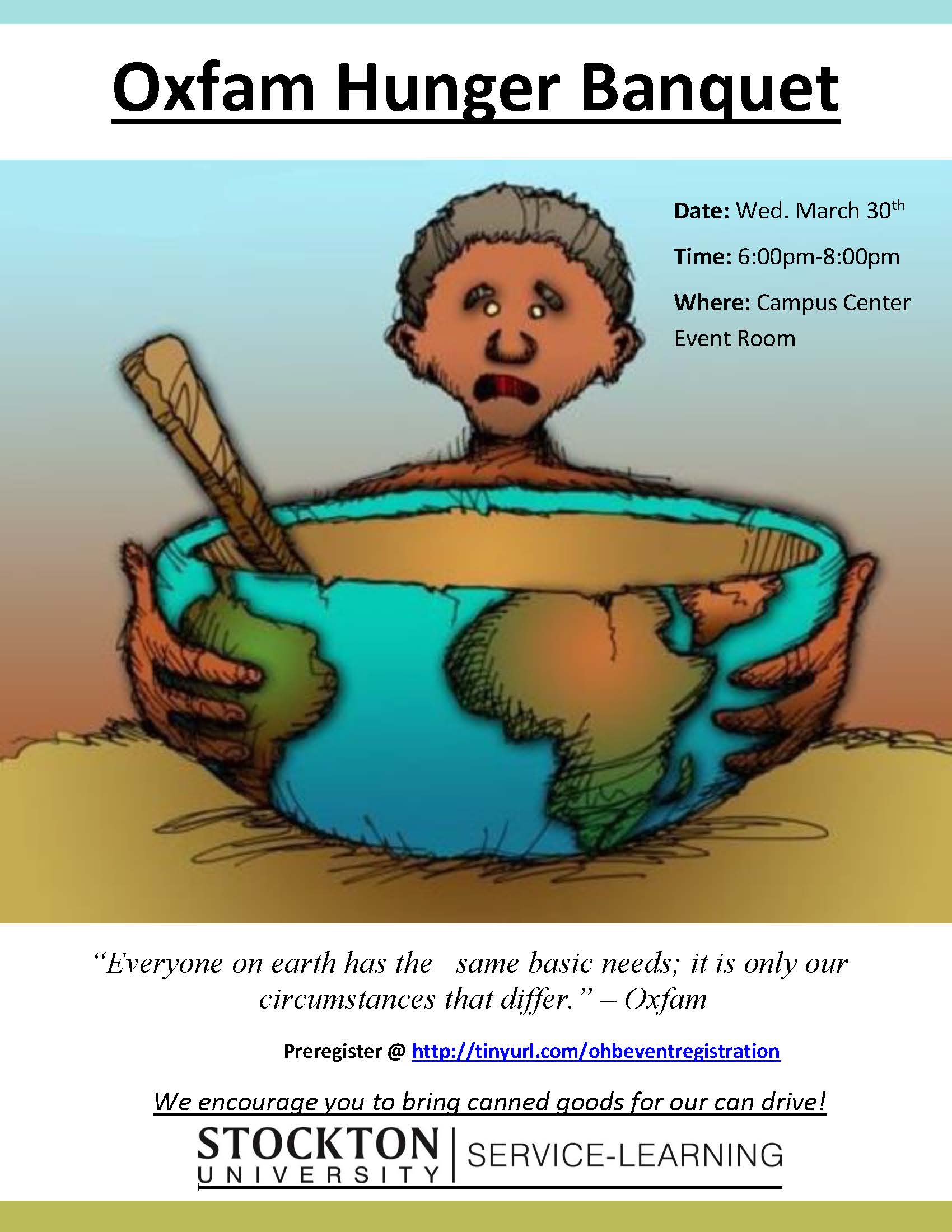 Approach 4: Co-Teaching/Designing
The interdisciplinary nature of global learning requires creative collaborations between faculty, students, and communities.
Example 1
Dr. Mariana Smith, Assistant Professor of Art (Printmaking) and Dr. JY Zhou, Internationalization Specialist
They are doing a pilot to connect the ARTV Image and Typogrpahy 2265 (Dr. Smith) and GIS 3673 Understanding Global Learning (Dr. Zhou). Activities include a joint class, discussion and assignments between students in two classes, and guest lecturing at each other's class. Please click Here for the presentation slides Dr. Smith prepared for Dr. Zhou's GIS 3673 Understanding Global Learning
Resources for Faculty