Neighborhood Watch
Neighborhood watch is a crime prevention program that asks the entire community – students, faculty and staff – to look out for each other's welfare; to be alert to anything that threatens the quality of life on campus; and to report all suspicious activities, emergencies and other concerns to the Police. The organization strives to create awareness and education throughout the community.
What can you get out of becoming a member?
Help keep the community safe

Community Service Opportunities

Educational Programs

Police Ride-Alongs

Community Safety Walks

Boost you Resume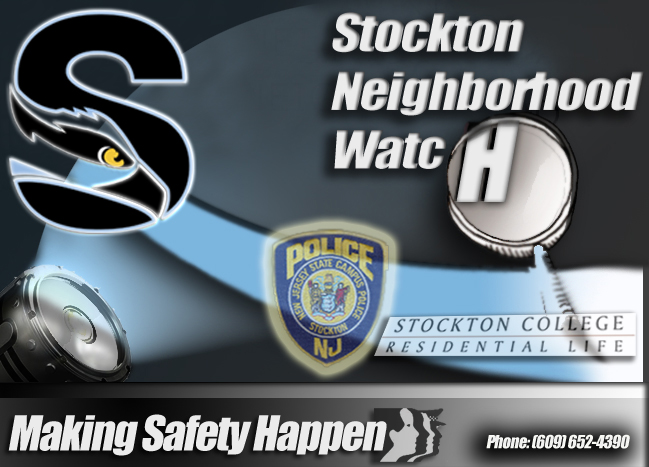 Visit our Facebook page:
---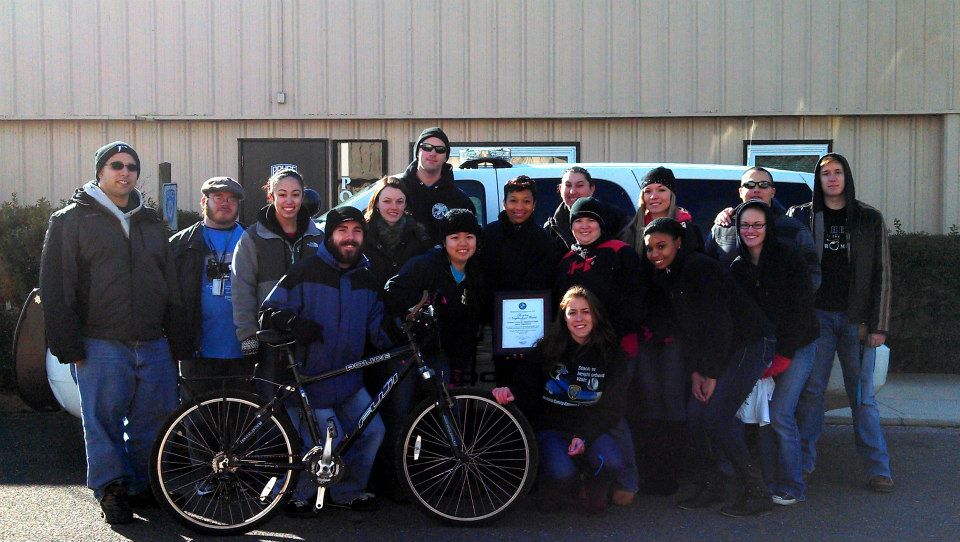 ---
Neighborhood Watch challenges you to be a part of the community – not a bystander who refuses to get involved by notifying those who can take action.
Here is how YOU can help:
REMEMBER – If what you see worries you, the Stockton Police need to know about it. We would rather be called and not needed, than needed and not called. There is also a Crime Tip Line on the Stockton website where reports can be taken completely anonymously.
Use 9-1-1 for a medical emergency, to report a fire, report a crime in progress or if you believe a life may be in immediate danger.When reporting "crimes in progress" stay on the phone until the police arrive, unless your safety is at risk. The 609-652-4390 non-emergency contact number is for non-life threatening situation, general inquiries or administrative calls.
When you alert the Stockton Police, be prepared to say ..
What happened,
When and where it happened, and
Whether anyone is or was injured.
And if appropriate ...
Obtain vehicle tag numbers and description; direction of travel; description of any suspects; and whether any weapons are or were involved.
Advisor: Sergeant Linda Kenny
President: Mike Wermuth
Vice President: Rob Start
Secretary: Cynthia Lennox
Treasurer: Dylan Ala
Public Relations: Roberto Nieves
For additional information please contact one of the following : Direct Email Sgt. Linda Kenny
Anything that seems slightly "out of the ordinary" for your area or unusual for the time in which it is occurring,should be reported immediately. Some of the things to watch for and report include:
Any emergency, such as an accident, a fire, a seriously ill or injured person.
People involved in fist fights, exhibiting threatening behavior or verbal abuse.
A stranger loitering around or walking through the buildings, hallways or other campus areas with no
A person screaming or calling for help; any unusual sounds
Property being carried out of a residence hall or academic building, especially at an unusual hour
Any form of vandalism, damaging a vehicle or other property; graffiti or removing signs
Anyone peering into building windows or lurking around parked vehicles, or trying to open them.
Anyone "testing" room or vehicle door handles.
A stranger repeatedly driving past your housing area or other campus areas.
Anyone being forced into a vehicle.
Any abandoned vehicles on campus
LET'S LOOK OUT FOR EACH OTHER!
Additional Crime Prevention links:
Important Phone Numbers:
University house phone ext. 4390
Emergency 9-1-1
Stockton Police Non-Emergency 609-652-4390