Police K-9
K-9 Unit
The Stockton University Police Department is committed to providing a safe and secure environment for the community. In 2011, the Police K-9 Unit was established consisting of one K-9 handler and one explosives detection K-9 graduating from the NJ State Police Academy. The K-9 team also received certification in tracking in 2012. Currently, Stockton University Police Department has completed the training of a new K9 which graduated from the NJ State Police Academy in 2020. The primary objectives of the K-9 Unit are to serve as an educational tool for the community, increase the effectiveness in the detection and prevention of crime, and support Stockton University PD community policing efforts. SUPD utilizes the K9 team in response to the need for increased security precautions at many special events that take place on the university campus. The K-9 team is part of the New Jersey Detect and Render Safe Task Force providing assistance for Homeland Security, NJSP, and local law enforcement in bomb detection operations as requested.
---
FREYA
FREYA
In order to remain proficient in explosives detection and tracking, the K-9 team must train almost daily. They must also participate in monthly trainings and evaluations with NJSP in order to maintain certification.
Date of Birth: February 1, 2016
Breed: Golden Retriever
Height: 21"
Weight: 48 lbs
Place of Birth: Virginia
Freya is certified by the NJ State Police as well as the United States Police Canine Association in explosives detection. She is trained to detect well over 20 different explosive compounds through scent recognition and has been utilized in both proactive and reactive operations. Freya is both high drive and social. Lt. Stuart and K9 Freya can often be found around the University campus participating in numerous community policing endeavors.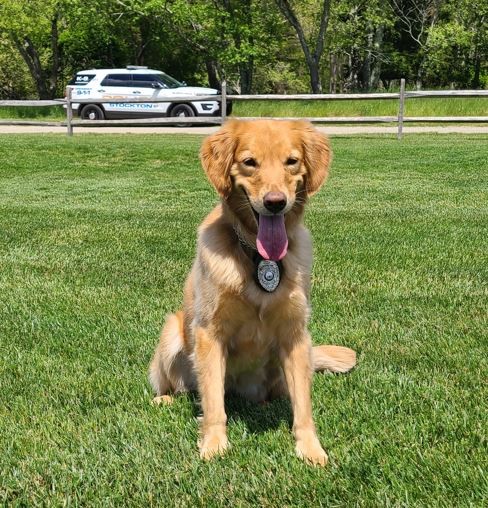 To schedule a demonstration with K9 Freya, contact Lt. Tracy Stuart at tracy.stuart@stockton.edu or 609-652-4390.