STEM Collaborative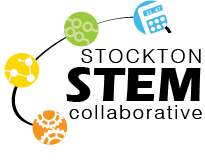 Stockton's STEM Collaborative aims to coordinate STEM/STEAM (STEM with an Arts component) initiatives within the Schools of Natural Sciences and Mathematics (NAMS), Education (EDUC), Health Sciences (HLTH), Business (BUSN), and Social and Behavioral Sciences (SOBL), the Southern Regional Institute and Educational Technology Training Center (SRI/ETTC), the Stockton Educational Opportunity Fund (EOF), and the local community, including K-12 districts, local Community Colleges, the Jersey Shore Science Fair, the Office of Naval Research (ONR) Sea Perch Program, the Science Enrichment Academy at Stockton (SEAS) the TechTrek Program at Stockton and K-12 Professional development through the SRI/ETTC. The STEM Collaborative will work closely with the Stockton Center for Community Engagement to identify community needs and cooperative projects.
The STEM Collaborative will work to recruit and retain talented students, particularly from underrepresented groups into the STEM disciplines at Stockton University.
---
This is an exciting new four year Liberal Studies Degree (LIBA) path that offers students an opportunity to earn a BA in Liberal Studies with a concentration in STEAM education including Elementary Certification (K-6) with Specialization options (6-8). The degree features core courses in mathematics, science, technology and art to allow students to focus their studies in STEAM while earning K-6 elementary certification. Following the set degree structure can offer the opportunity to earn middle school specializations in math and/or science along with the initial K-6 certification. There are also many possibilities for earning minors in such areas as art and digital literacy. See the School of Education website for more details. Students can formally declare this path as of Summer 2018!
The Southern Regional Institute (SRI) and Educational Technology Training Center (ETTC) provides professional development programs for New Jersey K-12 teachers.
Is a program sponsored through the Office of Naval Research that increases middle and high school students' exposure to science, technology, engineering, and mathematics (STEM) fields.
This website has the most complete collection of science and technology information and resources available on the Internet, including resources for students working on science fair projects and teachers needing content for science lessons.