Chelsea James '17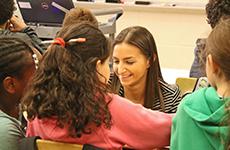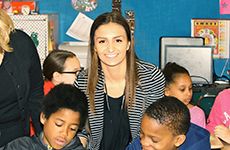 Why did you choose Stockton?
I chose Stockton initially because I was interested in continuing my soccer career after community college, and I felt like Stockton was a perfect fit not just for athletics, but academically as well. I also chose Stockton because I did not want to travel too far from home. During my campus tour with my soccer coach, I was very comfortable with the environment and was excited about the opportunities that the University offered.
Why did you choose your major?
This major has allowed me to take courses which will benefit me in the classroom as an educator and to explore theories of behavior and different ways people think. I have wanted to become a teacher since high school, and I have heard amazing things about Stockton's Education program from my friends and family who are University alumni.
What do you hope to get out of your academic program?
What I hope to gain, and have already learned so far, are ways to become the best instructor for my future students. Once I graduate in the spring, I hope that I will have been well prepared to teach in my own classroom. I know that educating children is a new experience each and every day, and I am hope that my education has prepared me to handle these experiences professionally. My ultimate goal is to get certified in Special Education after I receive my bachelor's degree.
What kinds of opportunities have you gained within your academic program?
This program has been so consistent in allowing me, as a pre-service teacher, to learn at any time and get my questions answered because it has been reiterated regularly that teachers are "lifelong learners." Stockton's Education program allows students to learn about teaching methods and ways to use those methods inside the classroom through fieldwork. I have been more than blessed to have been placed in such great schools for my fieldwork and student teaching semesters. The teaching experience has been vital to my growth as a teacher. I have had an amazing line of resources to discuss my progress toward my degree. My professors have helped me every step of the way and I am grateful for their time and effort in preparing me to become a great educator.
Extracurricular Activities:
I have played soccer for Brookdale Community College, and Stockton University for two years. I have also started coaching soccer as well, and would love to continue doing so in the future.
---