Jacob Wolos '17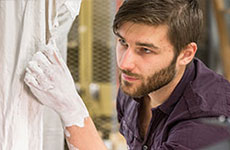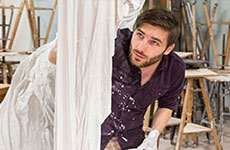 Why did you choose Stockton?
The Galloway area is home to me. I'm now 23, but I've been studying on-and-off at Stockton since I was 16 after a family friend invited me to sit in on one of his classes. From there, I was introduced to other professors who took me under their wing. I was able to take a variety of classes from Philosophy and Physics to Anthropology and Literature, before enrolling full-time. The Visual Arts program hooked me. The professors and students here are amazing.
Why did you choose your major?
Professors like Jed Morfit, Wendel White and Mariana Smith showed me what could be possible in the arts, and I haven't looked back since.
What do you hope to get out of your academic program?
I hope to gather the resources necessary to secure an internship during my undergraduate career and start my career after graduation.
What do you hope to get out of your academic program?
My next step is to go on to graduate school, as I would eventually like to become a professor of art. I look to one day be for future students what my professors have been for me. In the meantime, the degree I received will allow me to work in fabrication shops, print shops and foundries. Getting dirty while using my hands and mind! What could be better?
What kinds of opportunities have you gained within your academic program?
I have worked with Professor of Archeology Amy Papalexandrou as an archeological illustrator on one of her excavation sites in Cyprus. I took part in coordinating a large-scale gallery showing an event last spring with the assistance of Dean of Arts and Humanities Lisa Honaker, and with Professor of Sculpture Jed Morfit, I have researched how to turn giant messes into fascinating and engaging art.
Extracurricular Activities:
Started an artist collective at Stockton called the Creators' Collective and cycles to Stockton's main campus as often as possible.
---