Jimmy Fera '17
Jimmy Fera
Hometown: Toms River, N.J.
Class Year: 2017
Major: Sustainability with a concentration in Energy
---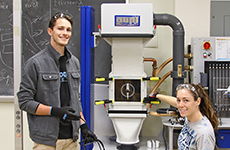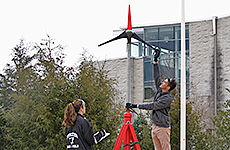 Why did you choose Stockton?
Stockton is close to home, so commuting is beneficial. Stockton is known as New Jersey's Green University which appealed to me because I'm interested in environmental science.
Why did you transfer to Stockton?
I studied engineering at Cornell University for a few years and struggled to find a concentration that I was happy with. The large classes at Cornell were difficult for me and I felt that I needed a change. I never thought I would transfer from Cornell to Stockton but looking back it was one of the best decisions I have ever made. I quickly came to enjoy the smaller class sizes and how engaged the professors were with their students. Professor Patrick Hossay especially played a large role in making Stockton a great choice for me, but many other professors along with my classmates were incredibly helpful in making an enjoyable transfer experience.
Why did you choose your major?
I chose Sustainability because I liked that the interdisciplinary degree involves being knowledgeable in many different subjects including environmental science, ecology, chemistry, biology, physics, economics, and policy and law. I chose to concentrate in Energy because I had an engineering background and enjoyed the idea of combining engineering with environmental science.
What do you hope to get out of your academic program?
The Sustainability program does a tremendous job of preparing students to be ready for their careers. The Energy concentration helps you develop field engineering skills which will be invaluable to me once I enter my career. Being comfortable with ambiguity and finding the right ways to tackle a problem have greatly increased the confidence I have for being successful in whatever career path I choose.
What kinds of opportunities have you gained within your academic program?
Through the Energy concentration, I have conducted residential and commercial energy audits. I have also learned how to conduct solar site assessments and install solar panels to battery banks. These projects along with many more that I worked on within the Sustainability lab have gave me ample opportunity to gain practical knowledge and develop mechanical skills that tend to be absent in today's academics. My experience within the program provided me the opportunities to intern at the Stockton Organic Farm, PSE&G and GreenLife Energy Solutions which have helped prepare me for a future career in energy, sustainability and consulting.
Extracurricular Activities:
Sustainable Farm Intern at the Stockton Organic Farm, Stockton Sustainability Trust Member, Stockton Community Garden Member
---