Jordan Ramos-Farhat '17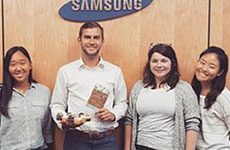 Where are you working?
I am a social media coordinator for Samsung SDS America. In this role, I develop content for social media outlets, build Samsung's presence across all channels, prepare reports and track social media influence measurements.
Why did you choose Stockton?
I chose Stockton because it was an easy transition for me. I had transferred to Stockton while I was almost into my junior year. I was comfortable attending here knowing I had friends that were already enjoying their Stockton experience. Also, a big aspect was the presence of Greek Life on campus. I was worried that I would not be able to meet many people because I did not attend as a freshman, and I wanted to make social and business connections through Greek Life. At the end of the day, the biggest influencing factor on my choice to attend Stockton was hearing people who attended or worked here talk about how great the University was.
Why did you choose your major?
Entering college, I was unsure what major I would be most interested in. When I was attending Brookdale Community College, I had my first internship working with a political campaign as a general intern. As weeks passed by, I found myself taking on more and more marketing initiatives with the help of my supervisor and loving every aspect of it. This led me to declare my major at Stockton as Business with a concentration in Marketing.
What kinds of opportunities have you had within your academic program?
Through my program, I have had the chance to connect with amazing professors who have endless amounts of industry experience. They take real-world circumstances and lessons, and apply them to the classroom. In my program, it is highly encouraged to take an internship where you can receive course credit toward your degree. With the guidance of one of my professors, I interned for the University Relations & Marketing (URM) department where I took a class and integrated what I was learning in URM with the principles of the course.
Extracurricular Activities:
Former president of Alpha Phi Delta fraternity; former vice president of Order of Omega honor society; intramural football; intramural soccer; volunteer for Suicide Prevention Week; volunteer for the Mental Health Association of Monmouth County; member of Residential Hearing Board
Internships:
Intern for U.S. Rep. Bonnie Watson Coleman (D-12th); marketing intern for Hard Ice LLC; social media intern for Stockton University; marketing/communications intern for Samsung SDS America; advertising student worker for Stockton University
Honors:
Mental Health Association of Monmouth County's 2017 Volunteer of the Year
---