Joshua Battaglia '18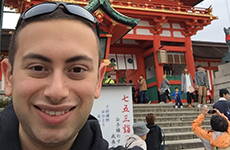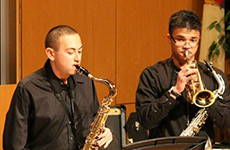 Why did you choose Stockton?
I chose Stockton University because it was a close-knit community that was both local and affordable. The atmosphere of the campus was "homey," and all of the professors I met really cared about their students and their education. It also appeared that Stockton was a university "on the rise." Stockton is growing and offering new opportunities to students everyday. I was pleased that Stockton had both a Political Science with Pre-Law concentration major, as well as a Music minor and offered me the chance to participate in many music opportunities.
Why did you choose your major?
I chose my major because I knew I wanted to go to law school upon graduation and ultimately would want to get into politics. I am very interested in politics and helping people through the law. Stockton's Political Science with Pre-Law concentration seemed perfect for me.
What do you hope to get out of your academic program?
I am planning to go to law school upon graduation.
What kinds of opportunities have you gained within your academic program?
I had the opportunity to intern with the 3rd Legislative District (Senator Sweeney, Assembly Deputy Speaker John J. Burzichelli and Assemblyman Adam Taliaferro) this past summer where I learned a lot about the legislative process. I am also a member of the Stockton Model UN Travel Team and had the opportunity to attend Model UN Conferences in Kobe, Japan, New York City and Washington, D.C.
How did you get involved with the Duffy String Band? What have you learned from the experience?
I got involved with Duffy's my senior year of high school. While in high school, I participated in my school's marching band program and really loved it. I knew when I graduated I would miss the experience of participating in marching band and the close friends I made as a member. When I saw the Mummer's Day Parade on television, I decided to reach out to Duffy's to see if they were accepting new members. They invited me to participate in the parade to see how I liked it. I loved it! I saw the same camaraderie and dedication in the Duffy's String Band as I did with my high school marching band. Three years later, I am proud to call Duffy's my family. What I have learned from this experience is that the love of music can unite people. The members of Duffy's String Band are all different ages and come from a variety of different backgrounds. Some of us are students, some of us are retired, some of us work in law enforcement, some work in education and the list goes on and on. When we come together, we are one. We are dedicated to putting on the best show possible come New Year's Day. We spend hours practicing together during "Mum Season" and I have learned so much about both music and life from the members who have been doing this for years (some over 30 years).
Extracurricular Activities:
Stockton Pep Band, Stockton Classical Ensemble, Stockton Jazz Ensemble, Stockton Music Union, Stockton Performing Arts Council, Stockton Model UN Travel Team, Stockton Honor Program, South Jersey Area Wind Ensemble, Duffy's String Band
---