Kierre Fenderson '21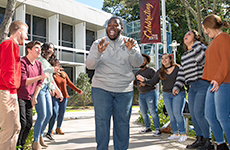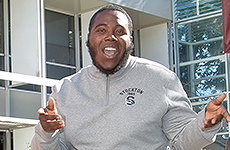 Why did you choose Stockton?
I chose Stockton because Heather Medina, assistant director of Admissions, came to my high school, Creative Arts Morgan Village Academy, for an onsite admission/instant decision day. She accepted me into Stockton's Educational Opportunity Fund (EOF) that day.
Even without visiting the University, I knew it was a great opportunity and I realized that Stockton was giving me the best financial opportunity, as well. The EOF program was the first time I visited the Galloway campus, and I liked what I saw. The lifelong friendships I have made during the EOF program made the decision to come to Stockton concrete.
Why did you choose your major?
I have always wanted to study the mind and what makes people tick­ — why behaviors play a crucial part in life.
What are your career goals?
After I finish my undergraduate degree, I know that I will most likely go to graduate school. I want to be someone that is there for people during their worst mindsets. I want to be someone to talk to when you feel as if there is no one left. In a sense, I want to be a victims advocate or a social/human service assistant.
What do you hope to get out of your academic program?
I hope to get a better understanding of how the mind works and copes with a tragedy. I hope to learn about how to help people who have been through unnecessary hardships, physically and mentally.
Extracurricular Activities/Work Experience at Stockton:
I work in the Campus Center Store where I help students and stack shelves. I am also part of the Unified Black Student Society (UBSS), which helps not only African Americans, but also minorities find their place at Stockton. I recently became a member of Stockton Theatre Club, which is fun and exciting because I love the world of musical theatre. I am part of the EOF family, which is one of the main reasons I'm still here at Stockton. Last, but definitely not least, I am a member of Stockton a Capella. A Capella has been like another family to me. I have so many memories and good times with them. It will forever hold a spot in my heart.
When did you start singing?
I started singing when I was a young boy in my church's youth choir. A few years later, I attended Creative Arts Morgan Village Academy, where I started out as a Creative Writing major and then switched to a Vocal Music major. Before I knew it, I was at competitions with the concert choir in New Orleans. I also performed at Carnegie Hall. I had always been too shy to sing in front of an audience, but in recent years have taken a liking to getting my voice out there in the world. Little did I know that I would love singing for people and showing where my talent has brought me and where it is going to lead me!
---