La-Tasha Randolph '18 '19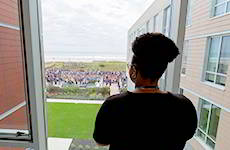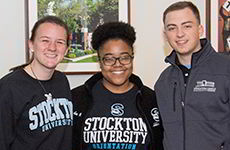 Why did you choose Stockton?
I visited three times before I came here and decided that it was far enough away from home but also looked completely different from where I was from. Stockton is in a very open place and I felt that I could experience things that I could not while being home. I chose Stockton for the opportunity to try something different.
Why did you choose your major?
I have always been attracted to the world of business and exactly how things operate. As an onlooker, you always see the result but never the woman or man power behind it. Studying business gave me that insight.
What are your career goals?
After graduate school, I hope to work somewhere to help place people in better positions in their life and foster creativity. I eventually would like to start a scholarship of my own and work within the housing district of low-income areas.
How has Stockton shaped your college experience?
The cosmetic appeal of Stockton is completely different from where I grew up. It has definitely helped prepare me for the real world. My college experience has been a non-stop self-journey because I was placed outside of my comfort zone. It allowed me to grow.
What has been your proudest accomplishment at Stockton?
I planned a trip to the Black Solidarity Conference that took place at Yale University over the course of a weekend. Stockton's community offers many opportunities for people of color and other minority groups, which is why bringing students from Stockton to the conference was a great opportunity to expand upon the conversations about issues within the black community. It was important for me because as an African-American woman, it is imperative that I stay connected and informed in what is going on in my community, and it showed me my potential to handle a leadership role. Planning it was not easy and took many months, phone calls and meetings. However, I had never been more proud of myself.
Work Experience, Extracurricular Activities at Stockton:
Operations assistant at the Stockton Information Desk, Orientation Leader, Secretary of Admissions Ambassador, Active Educational Opportunity Fund (EOF) student, President of the Alliance of EOF Students of New Jersey, Graduate Coordinator for the Atlantic City Operations, Student Advisory Board member for the School of Business.
Academic Achievements:
Dean's List, Delta Mu Delta International Business Honor Society
---