Marisa Douglas '17
Marisa Douglas
Hometown: Deptford, N.J.
Class Year: 2017
Major: Psychology
---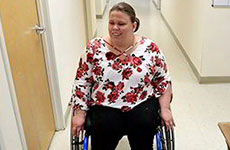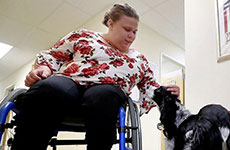 Why did you choose Stockton?
I chose Stockton because the environment was incredibly welcoming, and I felt that it was the university best suited to help me achieve not only my academic goals, but also my personal goals such as learning to live independently.
Why did you choose your major?
I picked Psychology as my major because I have always had a drive to help people. I felt studying Psychology was the best way for me to learn to understand people and to help them in the different circumstances they find themselves in.
What did you gain from your academic program?
After studying Psychology at Stockton, I feel as though I have gained a new understanding of people and how they may be thinking and feeling about the different life events they are going through. I also feel as though I have gained a stronger sense of compassion due to learning about different personal and social problems people face and about meeting people where they are and understanding that people are trying their best.
What opportunities did you have at Stockton?
The biggest opportunity I had while at Stockton was the opportunity to work as a peer educator at the Women's, Gender & Sexuality Center. I worked there my senior year and was able to participate in many advocacy and outreach activities and do my own project on violence against women with disabilities, which has since been a passion of mine and an area I hope to work in in the future.
How did Stockton prepare you for the next chapter of your life?
Stockton helped prepare me for the future in many ways. Living on campus gave me the skills to handle a variety of different situations that happen in adult life. Academically, Stockton allowed me to take a wide variety of classes until I found the topics that truly interested me and lead me down the path I am on now.
What are your future plans?
Currently, I am pursuing a Master of Social Work, working as a peer support specialist at Artemis Center for Independent Living in Galloway and running a support group for women with disabilities. In the future, I can see myself continuing to work in the area of disability rights and working to change the many challenges that face the disability community.
How are you using your own experience with spina bifida to help others?
My experience living with spina bifida and being a person with a disability gives me the opportunity to help people in a variety of ways. I am personally no stranger to the difficulties that living with a disability presents from bullying I've experienced in high school to body image issues to worries about the future. After going through these struggles, I want to help other people through their struggles with their own disability and tell people that they are not alone and that there is an entire disability community out there that understands them. Most importantly, I want to help people with disabilities and even those without disabilities, to understand that living with a disability is not inherently bad, it is not an inferior way of life, it does not mean your life and your dreams are over. It is simply different and it takes time to adjust, but life goes on after disability.
---