Mia Romeo '20
Mia Romeo
Hometown: Ocean City, NJ
Class Year: 2020
Major: Visual Arts with a concentration in Painting
---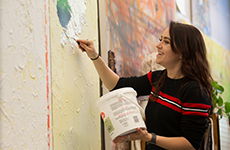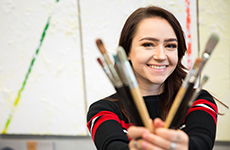 Why did you choose Stockton University?
I wanted to stay close to home while still experiencing everything college had to offer.
Why did you choose your major?
I've always had a passion for art and knew I wanted to expand my knowledge and career possibilities.
What have you gotten out of your academic program so far?
So much! I have so much gratitude for the Art Department and the amazing professors I've come in contact with.
What opportunities have you had at Stockton?
The Art Department has offered many amazing opportunities such as internships at the Noyes Museum, studying abroad in Japan and Taiwan, and teaming up with the Marine Science department to create 3D printed mappings and scenic photos of the Mullica River.
Where do you draw inspiration for your work?
In regard to my senior exhibition pieces, a lot of my inspiration comes from abstract textural artists such as Anselm Kiefer and Garth Weiser. For my landscapes, I draw more inspiration from the painter A.Y. Jackson. Although I love working on my own paintings that will go in the gallery this spring, I really did enjoy working with clay and making sculptures last semester.
How is Stockton preparing you for the next chapter of your life?
Stockton has provided me with the most honest and caring preceptor, Jacob Feige, associate professor of Art, who has continued to guide me in the best direction for my future and career.
What are your career goals?
Ideally after graduation I would like to open my own studio to produce my artwork with the possibility of entering a graduate program or receiving a teaching degree.
---