Nadira Anderson '21
Nadira Anderson
Hometown: Bergenfield, NJ
Class Year: 2021
Major: Political Science with a concentration in Pre-Law
---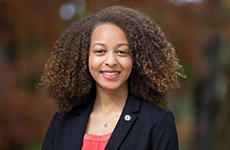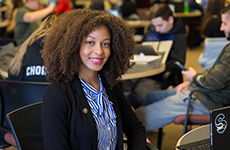 Why did you choose Stockton University?
I chose Stockton for the professors. Any public college can have a liberal arts program and a tightknit community, but few can have qualified professors to set them apart. The professors I met my freshman year were so impactful on my decision to pursue a political science education, I have consistently picked them for my classes over the last three years. I have worked as a research assistant with one, developed mentorships with some, and even created friendships with others. I have always found the camaraderie I developed with them to be the most significant source of my motivation to succeed.
Why did you choose your major?
I have always been in love with the law and politics, so, it only made sense for me to pursue a Political Science degree with a concentration in Pre-Law.
What have you gotten out of your academic program so far?
In addition to lifelong friendships and exciting college experiences, I have gotten the best idea of what I want to do with my future from participating in extracurricular programs. One of my favorite introductory experiences as a freshman was the thrill of running for Student Senate, subsequently winning and joining the Governmental Affairs Committee, and lobbying state representatives in Capitol Hill on the topics of Immigration and net neutrality. In another educational experience, I had the opportunity to speak with the Deputy Chief of Mission of the Luxembourg Embassy in Washington, D.C., and met with the United Nations Board of Auditors in New York through my membership with Stockton's Model United Nations club. Experiences like this propelled me to pursue similar leadership roles such as becoming the University's Student Trustee, where I now share the collective responsibility of being a student and a state fiduciary.
What opportunities have you had at Stockton?
I have had the privilege of attending leadership conferences in Florida as well as having the opportunity to conduct qualitative research alongside my professor on the topic of social activism and digital communication practices. Additionally, I have been able to work at two excellent law firms with a focus on gaming law, educational law and public services.
How is Stockton preparing you for the next chapter of your life?
I feel as though I have been given a greater advantage in understanding the law (both international and domestic) by taking specific classes with professors who are well-versed and qualified in their respective fields.
What are your career goals?
I hope to teach English abroad in either Brazil or Colombia after gaining my TEFL certification. Then at some point, I intend to go to law school. I plan to become an attorney for New Jersey, New York and Washington, D.C., but I hope to travel abroad for work someday. I want to continue working at the law firm I am currently at in Atlantic City, but plan to create my own firm in the long run. I'm also entertaining the idea of becoming a political correspondent when I'm older.
---