Nick Todaro '19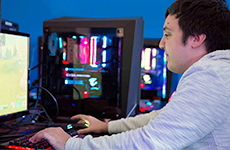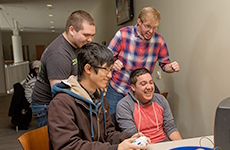 Why did you choose Stockton?
I chose Stockton because of the uniqueness of the area. I loved that there was a lake on campus and beaches nearby.
Why did you choose your major?
I find all aspects of business operations interesting. I want to learn more about how to run a business, how to grow a business and how to adapt to constantly improve a business.
What was your favorite class?
My favorite business class was Managerial Skills with Professor Joy Jones. I will never forget all the funny moments we shared. Our entire class was a close-knit community, which made the learning experience so enjoyable and fun. A lesson that stood out to me is how much preparing yourself for a job matters. Appearance, attitude and communication skills can help you stand out in the professional world.
How has your involvement in the Gaming Club shaped your Stockton experience?
I have met so many friends through the Gaming Club and really enjoy the community atmosphere. There's always someone in the upper Campus Center to hang out with.
You are ranked as the number one competitor in Stockton's Super Smash Bros. power ranking and top 10 in South Jersey. How do you up your game?
I practice with players here at Stockton or online at home for at least an hour a day. Like anything else, it's all about practice.
Can you describe some of your most memorable Stockton experiences so far?
Watching the Gaming Club grow from 15 people to about 30 who attend the Wednesday meetings has been amazing to see. Our biggest event, Extra Life, is a worldwide 24-hour fundraiser and gaming marathon, which brings together about 100 people on campus to support Children's Miracle Network Hospitals. Gaming to make a difference is so rewarding.
What is your dream job?
My dream job would be to work in e-sports in broadcasting or streaming.
Extracurricular activities/Hobbies:
Music and gaming.
---