Nicole Ertle '19
Nicole Ertle
Hometown: Forked River, NJ
Class Year: 2019
Major: Marine Science, Oceanography concentration
---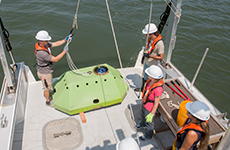 Why did you choose Stockton?
Stockton has a strong marine science program. I was guided by faculty and participated in graduate-level research, while navigating where I fit into the realm of marine science.
Why did you choose your major?
It was as simple as feeling drawn to the ocean. I found the more I learned about it, the more I wanted to keep learning about it. It was important for me to choose a major that I was interested in, willing to work hard for and ultimately gain employment in my field.
Tell us about the research you've been involved in.
My research experience evolved naturally from seagrass sampling to sonar surveying, as I honed in on where I wanted to see myself in the field. My first internship was right when I transferred into Stockton my junior year. I worked with Dr. Elizabeth Lacey and fellow Marine Ecosystem Research Laboratory Rangers, monitoring seagrass health in the Barnegat Bay. That experience exposed me to the instruments used to gauge water quality, and marine technology in general, and shifted my interests to the physical dynamics of the estuary itself.
I changed my concentration from marine biology to oceanography and began working with Dr. Anna Pfeiffer-Herbert. We conducted two 14-hour Acoustic Doppler Current Profiler surveys in Little Egg Inlet over the summer to determine a volume budget for the inlet. I spent six months prior to the survey working with sample velocity data in MATLAB to get familiar with data processing procedures. By the time I graduated, the first survey was completely processed from quality control to the tidal analysis. I presented results at an Atlantic Estuarine Research Society conference and at the NAMS undergrad symposium with a fellow research student Jaclynne Polcino, where we placed third. Dr. Pfeiffer-Herbert plans to publish some of our results and use them as a baseline for other surveys going forward.
What advice would you share with students?
In hindsight, keeping an open mind was essential. I initially thought I wanted to work with marine mammals, but the exposure to various facets of marine science at Stockton allowed me to foster interests I didn't know I had!
What do you love most about studying science?
Even though everyone has their own niche, science is truly interdisciplinary, and the process allows us to build on what was done before. Each piece is vital to the big picture, especially when making informed decisions.
What are your career goals?
I'm currently employed as a hydrographic survey technician, a role in which I was well prepared for by my academic experience at Stockton. Graduate school is probable in the future, but for now I'm enjoying getting to work with the latest marine technology on a daily basis.
Extracurricular Activities/Hobbies/Work Experience
I volunteered with a field researcher at the Rutgers University Marine Field Station and Jacques Cousteau National Estuarine Research Reserve, collecting and filtering nutrient samples. After the weather station was installed at Grassle Marsh, I wrote a script in MATLAB to read in wind data and produce figures of wind speed and direction for educational purposes at the reserve. Despite developing an affinity for marine technology, seagrass still holds a special place in my heart, and on days off, you can find me experimenting with preserving local specimens in my plant press.
---