Paul Harris '20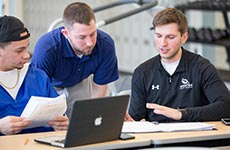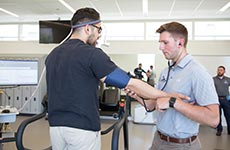 Why did you choose Stockton?
I chose Stockton because it felt so much like home. I love the location of it and how everyone has a really positive attitude. It also was the first year for Exercise Science being offered as a major which made me excited.
Why did you choose your major?
I chose Exercise Science because I'm pursuing a career as a physical therapist, and Exercise Science has so many classes that showed me many different topics in the exercise world. My career goal is to become a physical therapist for a sports team. Sports have always been a major component of my life.
Describe the work that you have done with athletic training at Stockton.
I have been working with athletic training for three years and the job has made my time at Stockton amazing. I work with the athletic training staff as a student, and I work practices, rehab and games. Being able to build relationships with all the athletes I work with is great.
Can you expand on how sports have always been a major component of your life?
I have played many sports throughout my life starting at a very young age. Baseball, soccer and basketball were always my favorite. In high school I was the captain for the baseball team my senior year when we reached the Group 4 South Jersey Finals. I've always loved watching sports and I'm Philly everything. I watch all four major sports and follow them year-round. I hope one day to get an opportunity to work for one of the Philadelphia sports teams.
What lessons have you gained so far through your academic program?
I try and approach every situation with an open mind and always look for ways to improve not just myself but others around me. I especially share my knowledge of how exercise impacts your life with my family at home and my roommates. Everyone can become healthier with the choices they make and the first thing is understanding how everything works.
What lessons have you learned while working with athletic training?
Athletic training has also had a huge impact on the things I've learned at Stockton. Being able to talk to everyone and resolve problems is going to be something I will use for the rest of my life. When your job is to help people when they're injured it isn't easy, but I've learned to always be prepared. Learning is never going to stop when you're part of a health career so going in with a great attitude and patience is key.
Are they any additional extracurricular activities that you are involved with?
Currently, I am part of the Exercise Science Club at Stockton, which is a new club our exercise science class created. I also play intramural basketball and go to the gym 4-5 times a week.
---