Sam Al Hajjar '19
Sam Al Hajjar
Hometown: Beirut, Lebanon
Class Year: 2019
Major: Business Studies with a Concentration in Finance
Minor: Economics
---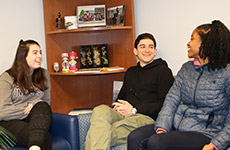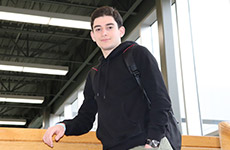 Why did you choose Stockton?
At first, Stockton was just a place where my previous university, Lebanese American University, had an exchange program. But the more research I did, the more I saw Stockton as a place to grow and evolve, and that is exactly what it gave me a chance to do. I found Stockton to have the environment best suited for me, while at the same time being affordable.
Why do you love finance and how did Stockton help foster that passion?
I have always loved numbers, and I happened to be good at it. I also gained a love for politics and economics in my last few years of school. And since people with Finance degrees are becoming more and more needed in society, I know this major will also make me financially successful. Stockton helped me meet more people in that field, people with a lot of experience; and gave me opportunities for internships and opportunities to join clubs related to my field.
What opportunities have you had at Stockton?
As a new student in my first semester, I was given opportunities to join multiple clubs, rush in a diverse selection of Greek societies and join the Student Senate. I also joined the Campus Hearing Board and Residential Hearing Board, which really gave me more of an understanding of the law and its procedures. After I pursue a master's degree, I want to go to law school, and these experiences have been helpful. Stockton also makes it easy to create your own club. I founded the Osprey Swim and Water Club with some friends. We basically trained competitively, went to competitions, taught people how to swim and held water events.
What would you tell an international student that is considering coming to Stockton from your personal experiences?
Wherever you're from, whoever you are, Stockton has a place for you. Stockton has a very diverse, open-minded student body, and it's easy to find your group of people here. So, come on over! It is beautiful to see that much diversity in unity, and it taught me a lot about other cultures. The Office of Global Engagement helped me a lot, too. They know how we feel and where we're coming from, and they guide us on how to be able to live in a foreign country.
What was your Washington Internship experience like?
The Washington Internship Program is a great way to get to know yourself and the career you are pursuing. You learn firsthand if this career is suited for you and are provided the expertise and networking needed for your success. The Washington Internship Program includes an internship, leadership seminar and a course of your choice. All these credits, usually 12-16, count toward your time at Stockton.
---