Sophie Murray '22
Sophie Murray
Hometown: Pottsville, PA
Class Year: 2022
Major: Economics
Minor: Mathematics

---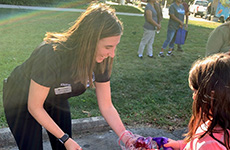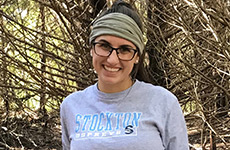 Why did you choose Stockton University?
I could not have found a school with a more perfect combination of everything I was looking for. The great ratings, location and atmosphere are what attracted me to the university, but what ultimately brought me here are the people. I have never felt more cared for by a community of people than I do at Stockton, including faculty, staff and fellow students. Seeing the opportunities offered, the connections that were sure to be made, and the heart every person in the Stockton family has, I felt that not only would Stockton give me the best four years of college but also that it would prepare me for a lifetime of success.
Why did you choose your major?
Well, I've loved mathematics since elementary school! I always wanted to pursue a career in which mathematics could be applied, but as I got older, I grew an equivalent passion for social justice and welfare. I discovered economics as the perfect combination of these two passions of mine. Using mathematical data applicable to studying human behavior and trends in order to help the overall human population is the most enticing job description I have ever seen.
What have you gotten out of your academic program so far?
More than anything, I have been exposed to unbelievably knowledgeable professionals who have such impressive experience in a wide variety of economic fields. What is most impressive, though, is how much each individual professor truly cares about students' wellbeing and success. Whether they are staying extra hours to help us study for exams, or preparing us for interviews, or asking how we are keeping up, the professors here go above and beyond to ensure that our academic journey at Stockton is nothing short of a success. I have taken an array of data-driven, research-orientated, discussion-based and service-learning courses that have broadened my horizon and given me academic experience much greater than I could have imagined.
How is Stockton preparing you for the next chapter of your life?
One of the most important components of my Stockton career has been tied to involvement outside of academics. Offering on-campus jobs and connections to off-campus jobs is an integral role in preparing students for success. I have three on-campus jobs: a box office employee and usher at the Stockton Performing Arts Center, an intern in the Office of Parent and Family Partnerships, and as an Admissions Ambassador. Along with these jobs, Stockton also heavily promotes club involvement. I currently serve as the Student Affairs Chairperson on our Student Senate, the president of our Economic Society, and I am a member of our Women's Coalition. The experiences gained from being a part of these organizations is invaluable. Through these positions, Stockton helps to build our leadership, communication and other real-world skills that will help us to advance in the chapter of our life following graduation.
What are your career goals?
I plan to attend graduate school and eventually pursue my doctoral degree in economics. While I have not settled into one specific field of economics yet, I plan to focus my studies on political economy or on the application of economics to public policy. Through my career, I want to be able to connect with people, improve welfare and fight for equity in this country.
---