Tori Sisbarro '19, '20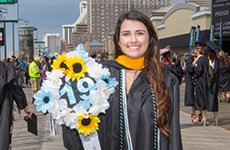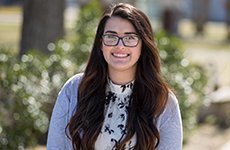 Why did you choose Stockton?
I chose Stockton University probably for the same reasons as most students. In-state pricing, far away enough to get a different experience from my hometown, but close enough to home, the opportunity of completing my MBA in five years and start my graduate classes early, the friendly and accommodating staff and faculty, and being so close to the beach. Little did I know four years ago, that choosing Stockton was so much more for me. I have created friendships that will last a lifetime, had incredible internship experiences, all while excelling in my studies along the way.
Why did you choose your major?
I chose Marketing as my major because there is so much more to it than people think. It turned out to work in my favor as well, because Stockton offers a five year dual-degree that allows me to double up and get my MBA in one additional year, where at most other schools it takes two.
What kinds of opportunities have you pursued through your academic program?
Internships. Internships. Internships! I have collected a lot of experience under my belt including being a part of the University Relations and Marketing team, a marketing and promotions assistant for 95.9 the Wrat, as well as being the executive national programming intern for iHeartMedia in New York. A lot of doors have been opened for me. I have learned that my passion and drive for my field is much more than most, and people in my field notice that.
You were the host of Stockton's Instagram stories for a semester. What have you enjoyed most and gained from that experience?
The atmosphere was truly so amazing, that I actually felt comfortable making bold decisions about my creativity of each takeover that I did. At first, I double-checked every step I made, but toward the end my creative freedom was endless. I felt like I could put my own spin on every project, which is inspiring itself. I also loved being able to interact with students and learn about the diversity we have here on campus.
What are your career goals?
If you asked me this four years ago I would say without hesitation, to work in New York City for a top marketing firm. Now? I have no idea where I want to end up, but I have never been so open-minded to new opportunities. Stockton has pushed me out of my comfort zone. I have experience in almost every marketing department, have done accounting expenses, and been exposed to the entertainment and music industry. I loved it all for different reasons. I'll get back to you in another four years to see where I ended up!
What are your hobbies and extracurricular activities?
Vice president of Admissions Ambassadors; Deans List; Omicron Delta Kappa Honor Society; Co-founder of Organ Donation Awareness Club; volunteer at Jersey Shore Animal Shelter.
On my time off, I love going to the beach, hiking and skiing depending on the season! I also like to try new recipes and travel the world.
---