Trang Phan '17
Trang Phan
Hometown: Hanoi, Vietnam
Class Year: 2017
Major: Marketing
---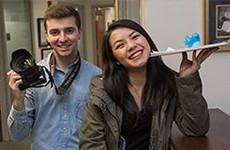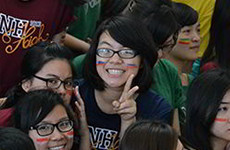 Why did you choose Stockton?
I chose Stockton mostly because of my sister. She was the first one in the family to go study abroad, and she chose Stockton as her destination. When she visited home, she always told me stories about the university, the campus life as well as the opportunities she got while attending Stockton. After hearing about her experience at Stockton, the excitement was building up in me, so I applied and got accepted.
Why did you choose your major?
I chose to study Marketing because after my first semester at Stockton, I realized marketing is actually beyond studying business. It involves creativity, imagination, psychology, art and so on! I also chose to study Marketing because the job options in this field are endless. I am such a dreamer and adventurer with big ideas, and as marketing is so transferable, I find it is so easy for me to try out different industries and discover what fits me the best. Regardless of my future careers, I can use marketing for pretty much everything, from politics – where I market the candidates to the voters – to daily life – where I market myself during a job interview.
What do you hope to get out of your academic program?
I hope to grow my brand and network, to be a team player, to become more aware and to make better decisions, and to find out more about myself as well as what I am capable of.
What projects, such as travel/research opportunities have you done within your major?
I'm currently working in the Office of University Relations & Marketing as a social media intern. I cover University events by capturing photos and videos to share on various social media platforms, hosting a campaign on Instagram Story called Question of the Week, and creating a new campaign called Study Abroad Student Takeover on Instagram. Prior to my internship, I had a chance to work in the Office of Global Engagement as the assistant to the international student advisor. I assisted incoming international students' applications as well as analyzed the office's interactions with both domestic and international students. I also helped the international student advisor recruit new students from other countries to Stockton. I also managed the office's social media channels, created daily postings, designed and edited blogs to engage with prospective international students and to promote various study abroad opportunities at Stockton.
Extracurricular Activities/Work Experience at Stockton:
Global Engagement Ambassador, Cultural Navigator Program Co-coordinator, member of Alpha Phi Omega Co-Ed Service Fraternity and Marketing and Management Association.
---