Victoria Saunders '19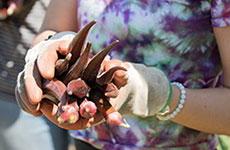 Why did you choose Stockton?
I wanted an affordable and quality education. In high school, my sights were set for big schools across the country, but my dream school was right in front of me the whole time. Stockton's professors have graduated from, or have previously taught at, a variety of universities, bringing unique experiences and tools into the classroom. The faculty is invested in the success of the students and I always feel like I have so many different resources at my disposal. My brother, a Stockton alumnus, used to tell me things like this; once I started, I immediately saw why. Years after he and his friends established the student-run organic farm, I am currently interning there. It's been great watching the school continue to develop and grow. Surrounded by the beautiful Pine Barrens, Stockton's tranquil campus became my new home two years ago, and I could not be happier with my choice.
Why did you choose your major?
When I first heard about "sustainability," I had no idea what it was. Now, I can't imagine not studying the balance of social, economic and environmental goals. I started out as a business major, but one of my professors noticed that I lacked a passion for the subject matter. I signed up for an ecological economics class with that same professor, and we quickly realized that my love for nature needed to be incorporated into my business studies. I'm now in the Sustainability Management program and I love the interdisciplinary field that combines the study of business skills, economics and environmental science.
What do you hope to get out of your academic program?
I hope to gather the resources necessary to secure an internship during my undergraduate career and start my career after graduation.
What kinds of opportunities have you gained within your academic program?
I've learned so much more about this field that I once didn't know existed. My professors have taught me how to search for internships. Job openings and interesting panels are always being advertised. I've been able to meet many faculty members who have a unique background in sustainability, and every professor I've worked with is as passionate about the field as the students are. They always mention other programs that they're involved in, and I hope to use these networking opportunities to further my academic career.
What are your career goals?
I hope to be a corporate sustainability manager so I can help increase social responsibility in the business world.
Extracurricular Activities:
President of Phi Sigma Tau (Philosophy Honors Society), member of Zeta Tau Alpha Women's Fraternity, member of the Honors Program
Internship and Volunteer Work:
Stockton Organic Farm internship; Zeta Tau Alpha (ZTA) volunteer, organizing fundraisers and other events such as 5K races, soccer tournaments and clothing drives for our philanthropy, breast cancer awareness and education; Relay for Life participant; Stockton Day of Service volunteer
---