Willie J. Barnes III '18
Willie J. Barnes III
Hometown: Chicago, Ill.
Class Year: 2016
Major: Business
---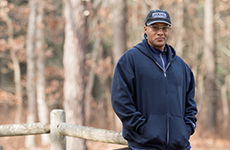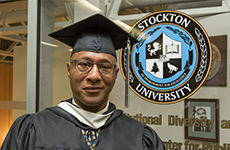 What did I do before attending Stockton University?
Prior to my retirement in June 2012, I worked 20 years as a Union Ironworker out of Local 1 Union in Chicago. My retirement was earlier than normal, due to injuries sustained on the job. I had two major surgeries; lumbar spinal fusion with disc replacement, and total knee replacement. My rehabilitation was very challenging. During that time, I began to contemplate my future, and how to shape it. I decided that I wanted to go back to work; I needed a purpose in life. I decided to go back to college.
Why did you choose Stockton University?
It came down to my campus visit. I chose Stockton because of the helpfulness of the staff in each department. Since I was a non-traditional student and a transfer student, I felt like a fish-out-of-water. When I had a question or issue to resolve, the staff would take me directly to the person that could answer my questions and resolve any issues. The admissions and registration process was tremendous. They were very diligent and understanding in transferring as many of my college credits from other schools as possible.
What are your future goals?
I am pursuing a Master of Science in Government Contract Law with a Graduate Certificate in Project Management from The George Washington University Law School. I plan to go back to work for the Department of Defense doing Contract Administration.
What are your proudest accomplishments?
One was while still working as an Ironworker. I was working on the Triborough Bridge in New York City, near the Bronx section, when the World Trade Center was attacked on Sept. 11, 2001. I went to the site as a first responder volunteer to help with the initial recovery. I was part of the effort to save the last three firefighters and human beings to survive the collapse.
Another was when I was able to help a fellow student that was going through some trying personal problems and was considering suicide. I was humbled that this person trusted me and respected me enough to be very honest with me. As a result, I was able to get them to Stockton's Counseling Center to intervene and help resolve their issues. The staff and faculty at Stockton truly care and are committed to the success of every student; your success is their success.
Finally, after a 23-year break in my education, coming back with all my doubts about being able to handle college and completing my degree.
Extracurricular Activities:
At Stockton, I was a member and treasurer of STAND (Stockton's anti-genocide organization) and I personally trained students in free weights.
---