Financial Sustainability

Stockton is a steward of public funds, carefully balancing the fiscal needs of academic programs, capital and facilities, technology infrastructure, human capital, debt and expenses, student programs and services, and operations while keeping tuition affordable.
Trustees Approve Facilities Master Plan 2020
The Stockton University Board of Trustees on Sept. 23, 2020, approved a new Facilities Master Plan 2020 that provides a long-term vision for University expansion.
Vice President for Facilities and Operations Donald Hudson presented an overview of the 138-page plan, which projects development well into the next decade.
The original Facilities Master Plan was completed in 1990 and was updated in 2010. The 1990 plan called it a "living document" that is part of a continuous process.
"This is more than just an idea," Hudson said. "This is a buildable concept and a kickstart to the future. When money becomes available, we will be ready."
The plan was a yearlong process that involved several campus committees and members of the board of trustees, faculty, staff and students. The Master Plan is also aligned with the preservation requirements of the New Jersey Pinelands Commission and identifies sensitive environmental areas and species.
Read the plan and learn more about new core projects, like additions to the Sports Center, a parking garage, and a Coastal Resiliency Center.
---
New Jersey Increases Stockton's Appropriations
For several years, Stockton University has been on the low end of the state funding spectrum, and the state funding per full-time equivalent (FTE) student has remained the least among senior public colleges and universities. President Harvey Kesselman and other stakeholders have met with legislators throughout the state to discuss public higher education inequities as it pertains to Stockton's direct state appropriation.
These efforts have paid off. The recent Fiscal Year 2022 budget approved by the legislature and signed by Gov. Phil Murphy establishes a minimum Dollars per FTE of $3,050 for all public colleges and universities. Additional funding updates have been made to the State's disbursement of Outcomes-Based Allocation funding. These changes increase the University's total direct State appropriation to $32,658,000, a 78% increase over FY19 ($18,391,000).
This budget includes $4.6 million in funding to support the Atlantic City campus first received in FY20 and the additional funded salary lines from FY19.
---
New Procedures, Government Funding Alleviate COVID-19 Financial Concerns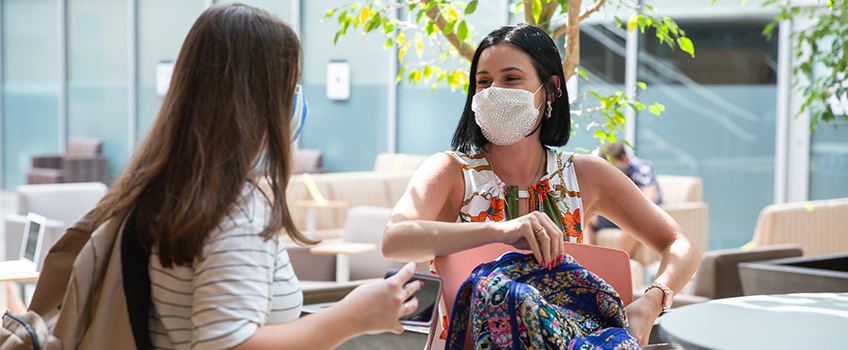 The COVID-19 pandemic impacted the University in several ways. Residential students returned home for Spring Break in March 2020, and unfortunately could not return to campus as state guidelines forced the closure of the residence halls and courses were moved online. A mostly virtual Fall 2020 semester followed.
Student refunds for suspended housing, meal plans, and transportation and safety fees impacted the University's bottom line. Reducing housing occupancy throughout the Fall 2020 and Spring 2021 semesters, a slight decrease in enrollment and equipment necessary to maintain a safe living and learning environment during the pandemic contributed to the need to reevaluate University spending procedures and priorities.
A new pre-approval process for all spending was implemented, which allowed budget unit managers to analyze all proposed purchases. Zero-based budgeting, which was piloted by a few departments in FY19, encouraged departments to prioritize their spending and reduce costs without sacrificing services and experiences for students.
Relief funding from the Coronavirus Aid, Relief and Economic Security (CARES) Act; Coronavirus Response & Relief Supplemental Appropriations (CRRSAA) Higher Education Emergency Relief Funds (HEERF) II; and the American Rescue Plan HEERF III; Governor's Education Emergency Relief Fund; and the Coronavirus Relief Fund provided more than $66 million in funding.
This money was used to offset lost revenues, purchase information technology equipment needed to enhance online learning and events, outfit the University with health and safety equipment and to provide aid to students who suffered financial hardship due to the pandemic. More than $10 million emergency grants to students have been dispersed and more will be distributed in Fiscal Year 2022.