Strategic Enrollment Management

Stockton has begun the important work of evaluating its recruitment goals and strategies, updating its institutional aid programs and developing a formal and structured student retention process.
Creating New Pathways to Stockton
Stockton continues to build relationships with partner institutions across the state, creating new routes for students to enter and complete their Stockton education.
2+3 MBA program with Atlantic Cape Community College
A new agreement with Atlantic Cape Community College will make it possible for students to earn an undergraduate degree and a Master of Business Administration (MBA) in five years. The 2+3 program would allow students to earn their associate degree in two years at Atlantic Cape, complete their bachelor's degree at Stockton in two years, then earn their MBA in one more year through Stockton's Accelerated Dual Degree Program for Business Majors.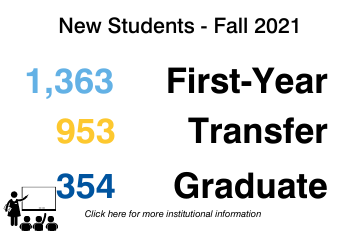 Camden Degree Path Partnership
The Degree Path Partnership between Stockton, Camden County College and Camden Academy Charter High School provides multiple paths for students to complete two- and four-year college degrees. Students will have three opportunities to be guaranteed admission to Stockton:
First, students can be automatically accepted to Stockton fulltime if they graduate from Camden Academy with a minimum GPA of 3.0 or higher and complete the admission application requirements.
Second, students who complete the We Go To College (Now)! program and earn an Associate of Arts Degree from Camden County College will be admitted as juniors to Stockton and be considered first-time college students.
If students don't meet the previously listed paths to Stockton, they will be encouraged to initially matriculate into the Camden County College Transfer Pathways partnership with Stockton. That program allows them dual enrollment to Stockton and Camden County College, with a guaranteed admission to Stockton as juniors once they obtain their associate degree.
First Dual Path Partnership Signed with Ocean City School District
Stockton signed its first Dual Path Partnership with Ocean City School District. The agreement will give Ocean City High School students the opportunity to graduate from both Ocean City High School and Stockton University in six years.
Two Schools Join Transfer Pathways Program
Transfer Pathways agreements with Bergen Community College and Middlesex College will help students make a smooth transition from the two-year colleges to Stockton's bachelor's degree program. Stockton now has Transfer Pathways agreements with 11 community colleges throughout the state.
---
T.A.L.O.N.S. Take New Students Under Their Wings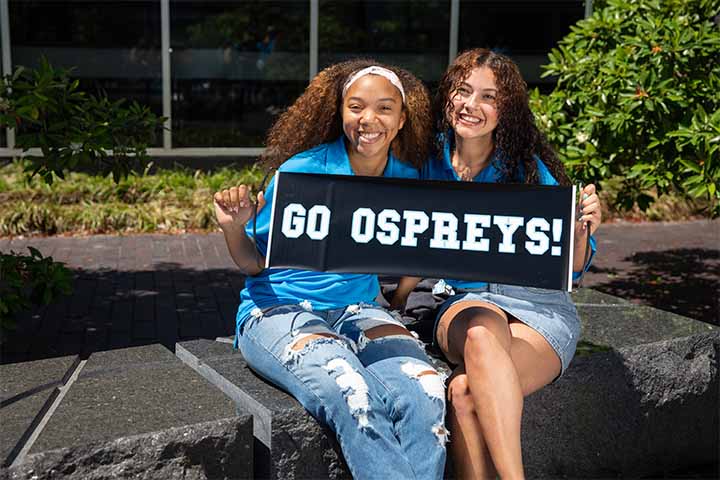 The COVID-19 pandemic forced many Stockton activities, classes and traditions to a virtual space. With online orientation and virtual registration, new first-year and transfer students were not getting the traditional on-campus experience.
But they still received a warm Stockton University welcome from some 30-plus T.A.L.O.N.S.
The T.A.L.O.N.S. are the Transition Activity Leaders of New Students. Their role is to welcome new students, help them get acclimated to Stockton, answer their questions, and be available in the fall semester to help them adjust to their new academic home.
"We are here for you," said one of the three head T.A.L.O.N.S., Alize Thompson, reminding new students that the goal of each T.A.L.O.N. is to truly serve as a source of support for all new students.
The T.A.L.O.N.S. program is run by Ana Edmonson, director of Student Transitions Programs, and Nordia Johnson, director of Academic Achievement Programs, who developed the curriculum for the Inclusive Student Transition course, which all T.A.L.O.N.S. take in the spring semester prior to beginning their job duties.
The course especially focuses on Diversity, Equity and Inclusion, which Edmonson said is necessary for T.A.L.O.N.S., who play a role in increasing diverse students' sense of belonging, a crucial factor in student retention and success.
---
Area Students Set GOALS, GEAR UP for College
Students in the Stockton University GOALS GEAR UP Summer Enrichment Program did not just learn new skills, they also earned to learn and received a stipend to support their academic progress.
The more than 50 students in grades 7-12 programmed robots, examined a very realistic simulated patient at the Stockton Health Sciences Center, and developed business plans as budding entrepreneurs. They even created a GOALS GEAR UP rap, performed at the closing ceremony by Jeremiah Williams and Rasa Arline-Bethea.
In addition to what they learned, eleven graduating high school seniors and alum of the program who attend Stockton University will receive a $1,000 book stipend: Lipon Ahmod, Sabina Chowdhury, Asma Homayra, Zikra Naz, Lisbeth Ramirez-Reyes, Shalon Blake, Jhoselin Canas, Kimberly Cortes-Salazar, Sangida Huda, Azra Mahisa, and Jetzaly Medina.
Another 86 students in the program received $300 stipends to help them prepare for the upcoming school year.
The mission of the Stockton GOALS GEAR UP Program (Goal Oriented Advocates Leaders and Scholars) is to increase the number of under-represented students who are prepared to enter and succeed in college. Stockton's program, housed at the Atlantic City campus, serves over 180 students in grades 7 through 12 from the Atlantic City and Pleasantville Public School Districts.
Destiny Talley, director of the program, said their goal is not just to assist students academically, but to also teach them to become good people and good citizens.