Stockton Promise Guarantees Free Tuition & Fees

Stockton reaffirms its commitment to providing New Jersey students with an affordable liberal arts education.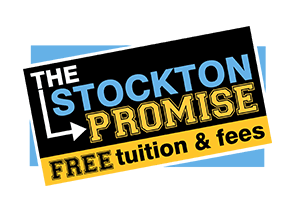 Beginning Fall 2021, qualifying Stockton students will have the balance of their tuition and fees covered, after all federal, state and other institutional aid are applied thanks to the new Stockton Promise Grant.
Full-time, first-year and transfer undergraduate students who are New Jersey residents with an adjusted gross income of $65,000 or less will have a zero balance for their tuition and fees, guaranteed for up to four years of their Stockton education.
"The Stockton Promise represents our commitment to eligible students and their families so that financial circumstances will not be a barrier to attending college," Stockton University President Harvey Kesselman said. "This program will help students achieve their educational goals and reduce potential loan indebtedness."
Heather Medina, director of Admissions, discusses the grant and Stockton's motivation for implementing the program in an interview for Stockton Now below.
---
A Top-Ranked Education
U.S. News & World Report
Stockton University remains among the top 10 public universities in the North according to the 2021 U.S. News & World Report College Rankings released Sept. 14, 2020.
Stockton is ranked 7th among the 62 public colleges and universities and is 34th among 176 public and private universities included in the Best Regional Universities-North.
Stockton is also included in the regional listing of Best Colleges for Veterans, rising from 18th to 15th among 49 colleges in the listing.
The University is listed among the Best Value Schools, which measures quality and cost, and is recognized as a Top Performer on Social Mobility, which measures the graduation rate of students who receive federal Pell grants.
Princeton Review
Stockton University continues to rank among the Best Regional Colleges in the Northeastern region by the Princeton Review. The national review publication also includes the University on its ranking of top Green Colleges, which looks at sustainability factors such as food purchases, waste management, and sustainability degrees offered.
---
The Stockton Promise Grant is one of the latest additions to Stockton's long history of removing barriers to higher education for New Jersey students. The following Financial Aid data is based on the 2020-2021 academic year.