International Education Week 2022

We invite you to celebrate the annual International Education Week (November 14 -19, 2022), a week to celebrate the benefits of international education and exchange worldwide.
#StocktonIEW2022
---
International Education Week (IEW) 2022 Event Schedule
2022 Open Doors Report & Annual Data Release
This year's event will provide detailed analyses of the latest Open Doors data on international student and scholar mobility for academic year 2021-2022 as well as U.S. study abroad data for academic year 2020-2021. Access is free and open to the public. Please register first.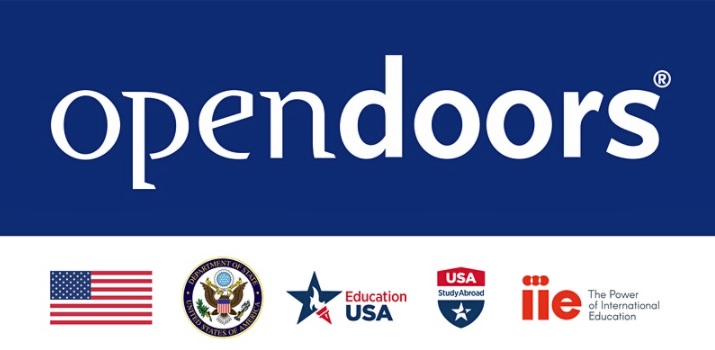 Deliberative Dialogue - Integrating Global Democracy into Campus Conversations (Hosted by AASCU ADP)
As a mechanism for encouraging unbiased, factual, and empathetic discussion, deliberative dialogues allow diverse views and perspectives. Since 2020, AASCU's American Democracy Project (ADP) has integrated deliberative dialogues into national events and trained a number of facilitators from higher education institutions on how to integrate deliberative dialogues into curricular and co-curricular activities.

Join facilitators from the US, The Bahamas, and Argentina in this session to discuss how deliberative dialogues can be integrated on more campuses, especially to expand discussions on global civic responsibility and democratic citizenship. A panel will share best practices to encourage deliberative dialogues as an institutional commitment and to use dialogues as a means to expand the international aspects of their campuses. A discussion with all attendees will explore how institutions can strategically and intentionally support global democratic norms so that students are encouraged to be informed, engaged, and active global citizens.

Panelists:
Dra. María Luisa Gutiérrez Peart, Head of Internationalization and International Cooperation Department, Director of American Studies program, Universidad Católica de Santa Fe (Argentina)
Dr. Jessica Traylor, Assistant Professor of Psychology, Gordon State College (Ga.)
Dr. Walteria Tucker-Rolle, Chair of the Academic Senate and Director of the American Corner-Nassau, University of The Bahamas
5pm - 7pm
Campus Center Board of Trustees Room
Stockton International Student Organization (ISO) Launch Event
Target audience: All are welcome!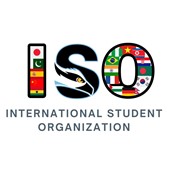 We are excited to announce the Stockton International Student Organization (ISO) is official now!Join us to celebrate the launch of the student-led Stockton ISO and meet student leaders.
All are welcome! Dinner will be served.
12:30pm - 1:30pm
Campus Center Meeting Room 1 or
Fulbright Scholar and Student Program Information Session
Target audience: Faculty and staff members, and students
We will share information and experience for students and faculty on how to apply for the Fulbright Student and Fulbright Scholar Programs.
Led by the United States government in partnership with more than 160 countries worldwide,
the Fulbright Program
offers international educational and cultural exchange programs for passionate and accomplished students, scholars, artists, teachers, and professionals of all backgrounds to study, teach, or pursue important research and professional projects.
EducationUSA Dialogue: Utilizing DEIA Strategies To Support The International Student Experience
Join us for a discussion of how diversity, equity, inclusion, and accessibility (DEIA) strategies can be applied to support international students on campus. Panelists from public and private institutions, as well as the private sector, will share their expertise and case studies from their work with international students. Part of the EducationUSA Dialogues mini-series on DEIA, this webinar builds on the discussion of opportunities for mutually beneficial coordination between campus leaders engaged in international education and DEIA programming.
Click here to see past EducationUSA Diaglogues Sesssions and more resources.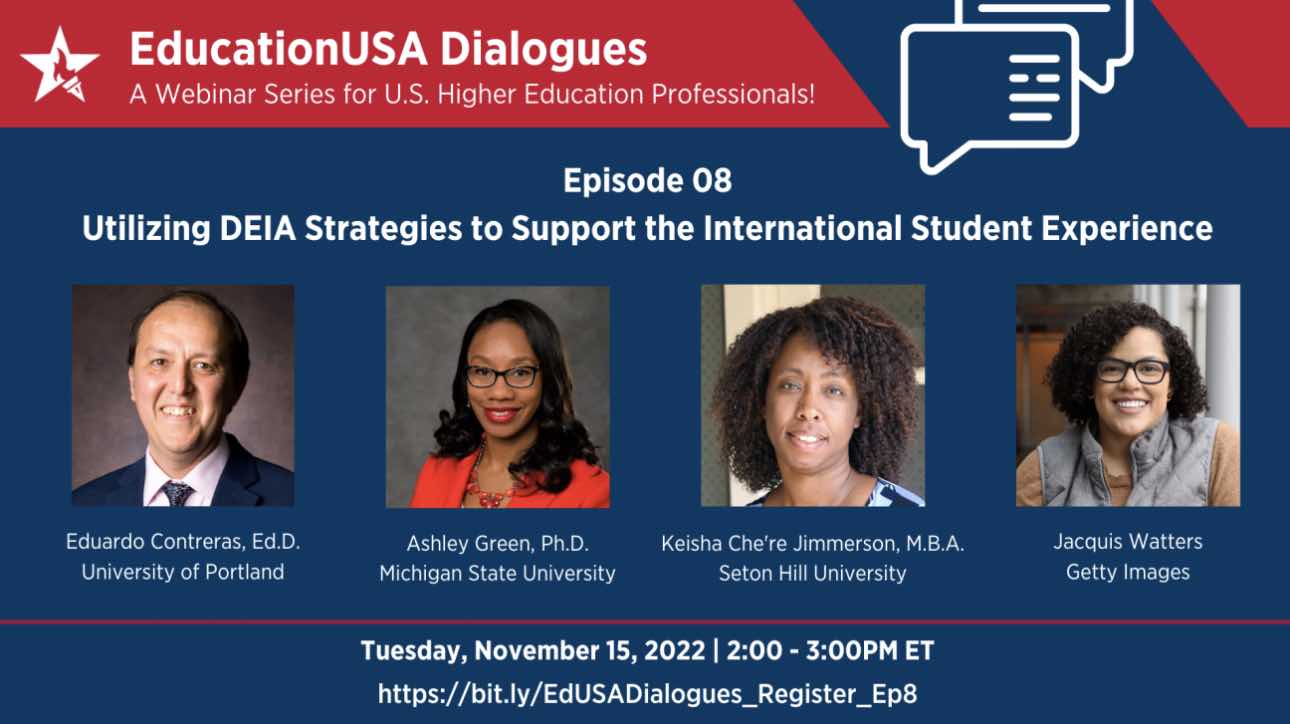 4:30pm - 5:30pm
Campus Center Meeting Room 3 or
Introducing a COIL Experience - USA (Stockton University) and Mexico (Universidad Panamericana)
Target audience: Faculty and staff members
Interested in developing your COIL (Collaborative Online International Learning) project? Come and join us at the session to hear how faculty members in two different institutions in US and Mexico met in a COIL event and collaborated in designing a COIL-based new course. The speakers in the session are:
Stockton University (USA):
Dr. George L. De Feis, Introduction of COIL Format Perspective (USA)
Universidad Panamericana (Mexico)
M. S. Gabriela Valdivieso Piersanti - Introduction of COIL Format Perspective (Mexico)
Dr. Julieta Dominguez Soberanes - Steps followed to establish COIL between Stockton University and Universidad Panamericana
Dr. Mayeli Peralta Contreras - Introduction of the various student speakers below


Paula Fernanda Monterrosa Gutiérrez –

Topic

:

Sustainable Environments

José Arturo Dávila Casillas and

Claudia Itzel Jiménez Arteaga –

Topic

:

Biogas: Environmentally-friendly, renewable energy sources

Fernanda Morán Ledesma and

Natalia Josefina Gómez Guerrero –

Topic

:

Actions for Sustainability
4:30pm - 5:30pm
Campus Center Meeting Room 1
Education Abroad 101 Session
Target audience: Students who are interested in studying abroad
In these sessions, you will learn all the information about education abroad at Stockton, including available programs, scholarships, applications, cost, timelines, etc.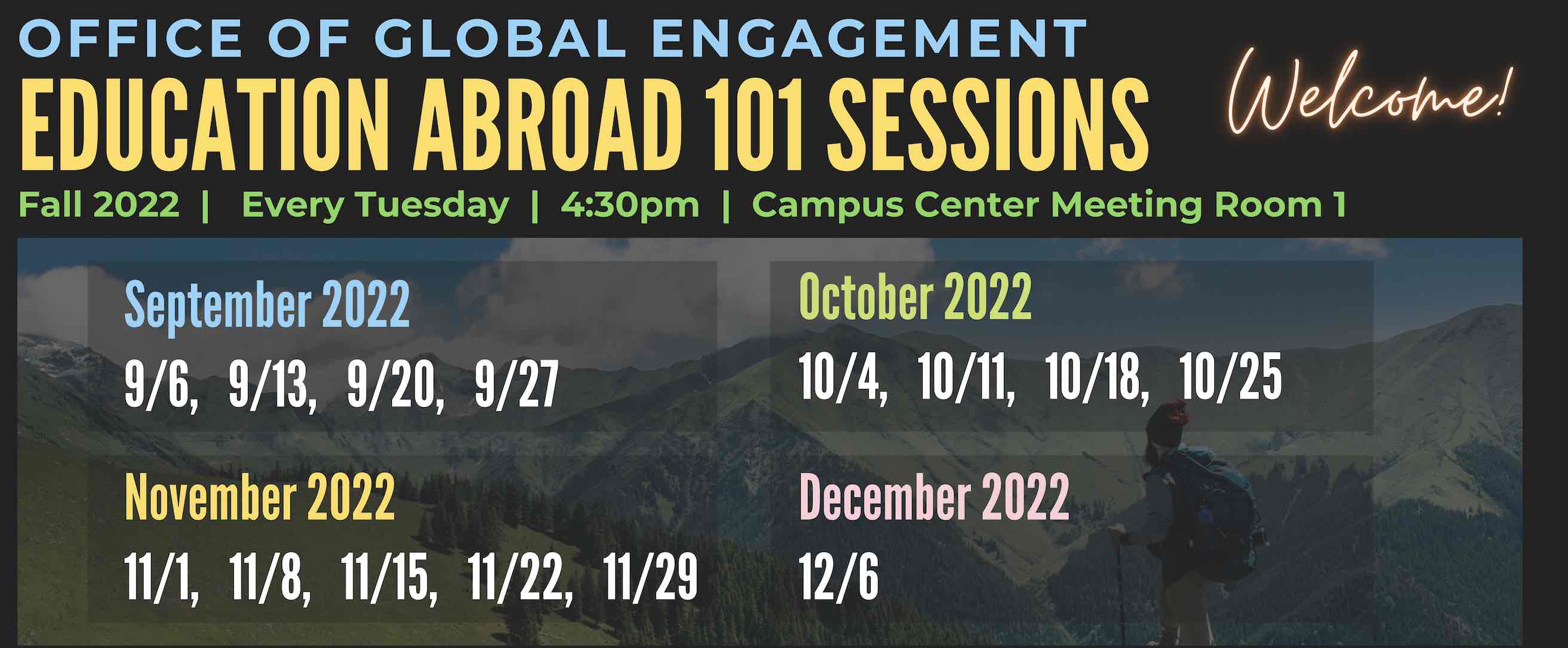 1pm - 2pm
Campus Center Meeting Room 2 or
Supporting International Student Academic and Career Success
Target audience: Faculty and staff members
Having international students in your class, research projects, or office? Please join us to discuss how to better support our international students. This session willshare international students' academic and career expectations and challenges, and discuss opportunities and effective strategies to support international student success.
5pm - 6pm
Campus Center Event Room
Ask an Osprey about Study Abroad
Target audience: Students who are interested in studying abroad
Interested in study abroad? Come and ask anonymous questions to study abroad student panel, faculty leaders, and various key offices!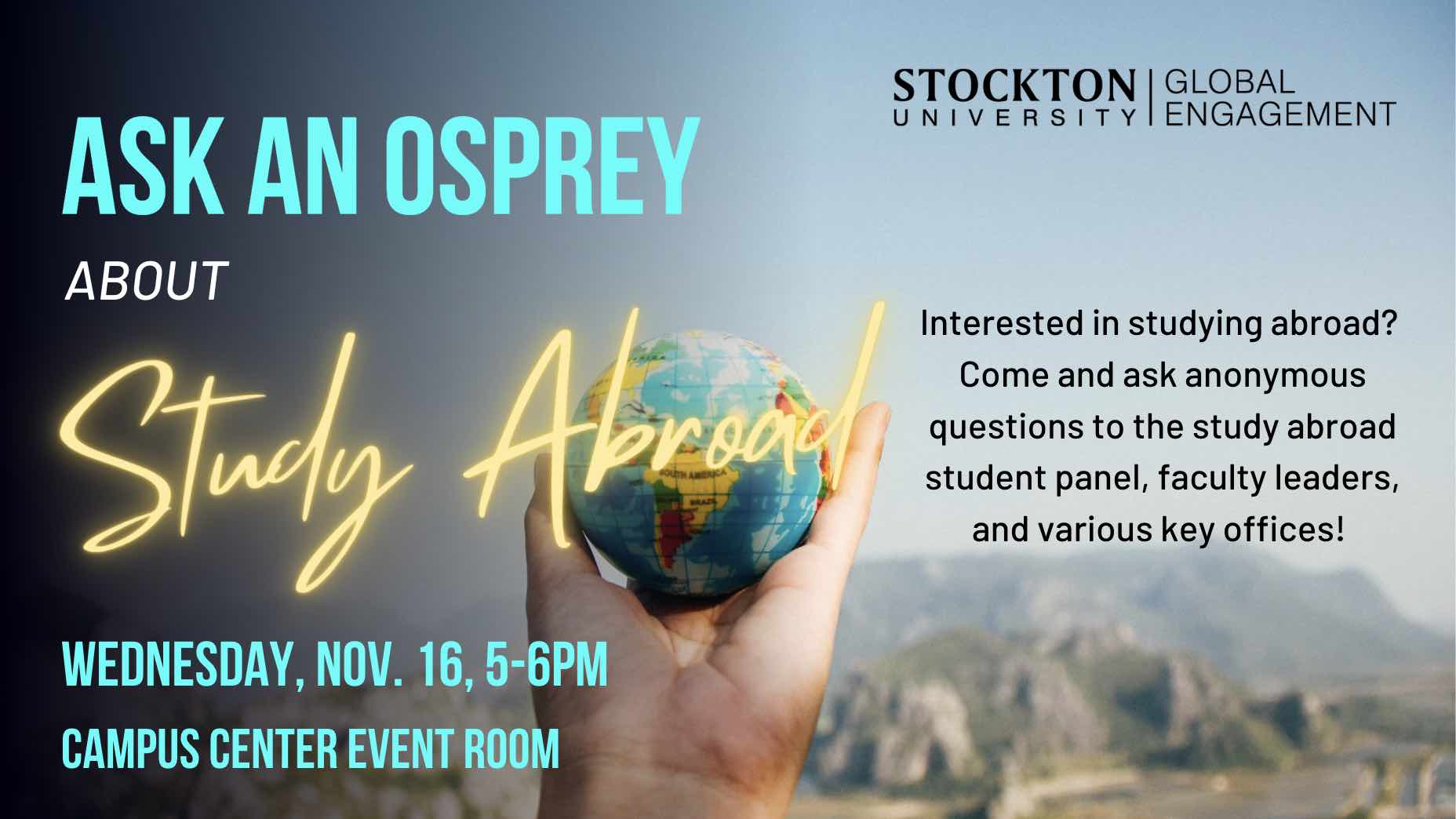 12:30pm - 1:30pm
Campus Center Meeting Room 1
or
How to developing a Faculty-led Program
Target audience: Faculty and staff members
Faculty-led program (FLP) is the most affordable, accessible, and popular study abroad programs for our students. We highly encourage all faculty in various disciplines to consider leading a Faculty-led Program.
Join us to discuss the practices, timeline, and tips in developing faculty-led programs to provide valuable and unique experience for our students to learn the disciplinary knowledge and understand the world outside of the classroom.
Stockton World Language Tables
Target audience: Faculty and staff members, students, and community members
A welcoming and no-pressure environment to practice world language skills and communicate with students from Stockton's global partner institutions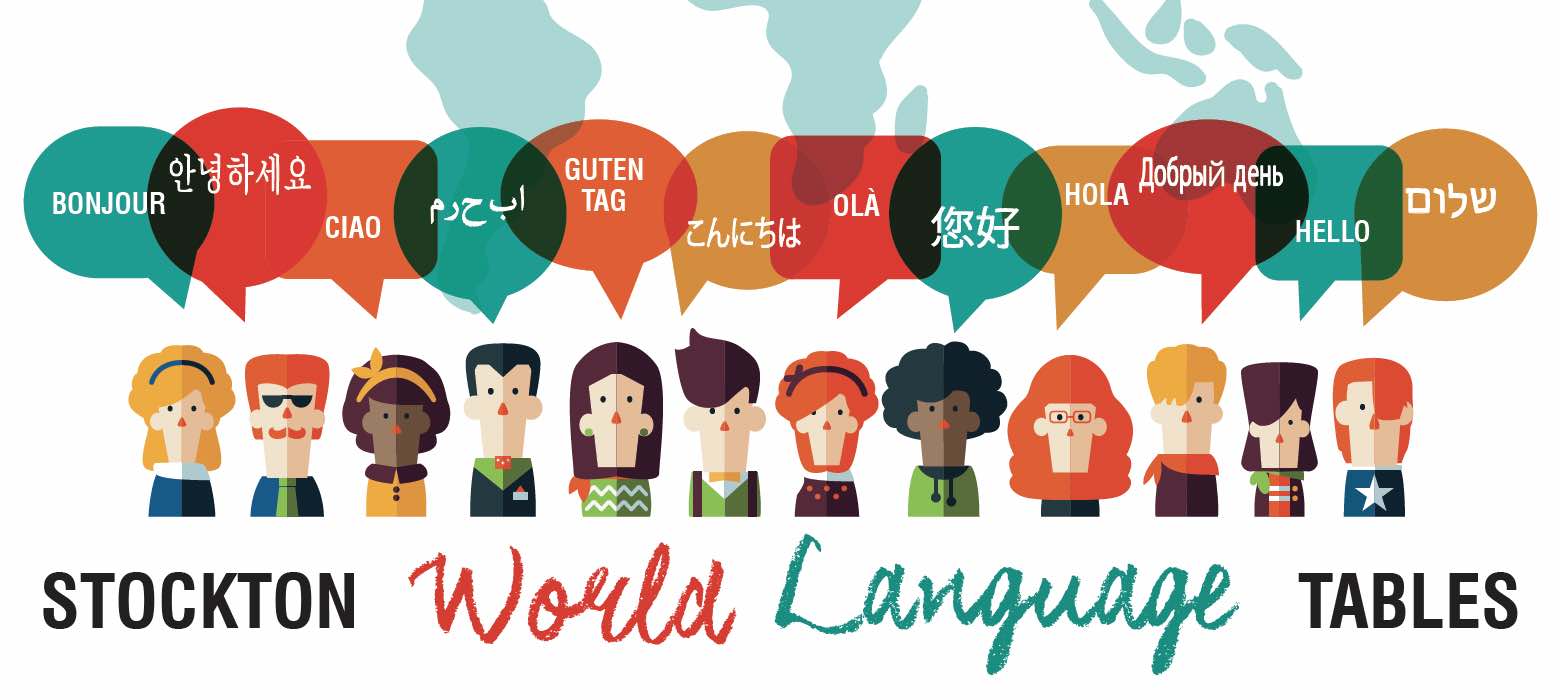 2pm - 3pm
Campus Center Meeting Room 1 or
Short-Term Visiting Scholar at Our Partner Universities
Interested in teaching and doing researching at our partner universities?We will hear the experience of Dr. Ehiobuche on applying and serving as a short-term visiting scholar at the Universidad del Rosario in Colombia and share resources and opportunities to teach or research at our partner universities around the world.
Picture below: Dr. Ehiobuche with students in the Universidad del Rosario


From Study Abroad to the State Department: How Developing Global Perspectives Supports U.S. Foreign Policy
USA Study Abroad, part of the U.S. Department of State's Bureau of Educational and Cultural Affairs (ECA), and its Benjamin A. Gilman International Scholarship Program are pleased to invite current recipients and alumni of the Gilman Program, the Critical Language Scholarship (CLS) Program, ECA exchange alumni, and all interested U.S. undergraduate and graduate students to attend this 2022 International Education Week virtual event.

This two-hour webinar will feature an interview with Secretary of State Antony Blinken exploring how U.S. diplomatic work impacts the lives of the American people and how studying abroad furthers the State Department's foreign policy mission. Webinar attendees will hear directly from the Secretary of State and a panel of U.S. foreign service officers focusing on how their work at the State Department advances U.S. foreign policy, how that work impacts Americans, and how study abroad shaped their careers and continues to impact their lives as American diplomats.

The webinar will highlight State Department fellowship and employment opportunities with a session presented by the Department's Bureau of Global Talent Management, followed by interactive networking and breakout sessions focused on study abroad opportunities through State Department scholarships, life inside the State Department, and information on State Department career paths.

Interested in learning more about how the State Department furthers foreign policy goals around the world? This event will include a preview of the 2023 Inside U.S. Foreign Policy series – a six-part virtual series beginning in January offering an inside look at how the State Department works to combat climate change, secure the global food supply, foster entrepreneurship, and promote other important foreign policy priorities on behalf of the American people. Tune in to learn more.
4:30pm - 7pm
Lakeside Lodge
International Student Thanksgiving Dinner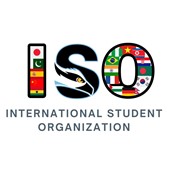 Join our international students to celebrate holidays together!
All are welcome! Dinner will be served.
8:30am - 7pm
New York City
International Student New York City
We invite our international students to spend a day in the one and only New York City!

---