B.S. Health Science/M.S. Physician Assistant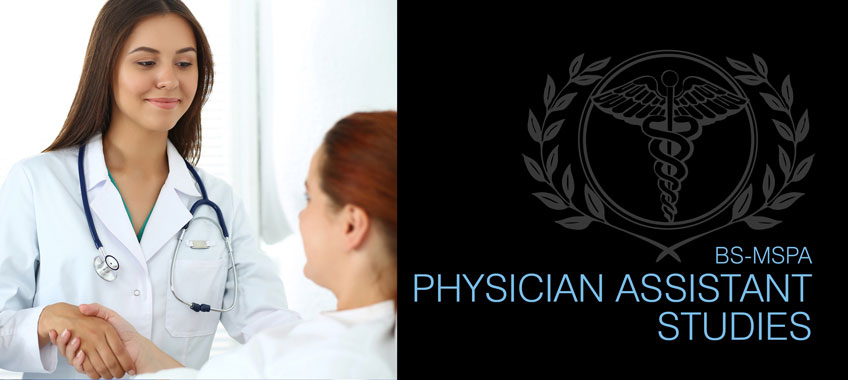 The Undergraduate Entry option is designed for students who have found their niche in health care as a physician assistant early in their academic career.
It is designed as a full-time, accelerated, five-year course of study. This program awards a B.S. in Health Science (BSHS) at the conclusion of the seventh semester and a M.S. in Physician Assistant Studies (MSPA) at the conclusion of the entire 5-year program.
---
Admissions Information
The BSHS/MSPA dual-degree program is only open to qualified high school seniors. Applicants to this program must be incoming freshman from high school. Students are permitted to have dual high school/college, or AP credits.
The program admits students for Fall enrollment only. As part of the direct entry dual-degree program, students will be guaranteed a seat in the Thomas Jefferson University MSPA program (Voorhees, NJ location only) provided they meet ongoing requirements related to GPA, direct patient care hours, and professional behavior. Students enrolled in the BSHS/MSPA program will be expected to apply to Thomas Jefferson University (Voorhees, NJ campus) through CASPA and pay a small application fee in the summer/fall before the start of year three; this is for data transfer purposes only, as the students are already accepted to Jefferson's PA program.
Incoming transfer students will not be considered for this direct entry program but are welcome to apply to the BSHS major. A very limited number of internal transfer seats for the dual-degree BSHS/MSPA program may be available. This opportunity is for current BSHS juniors or seniors only. Please see the link on the right for the current internal transfer application and requirements.
Students can apply to the BSHS/MSPA dual-degree program through the Office of Undergraduate Admissions at Stockton University. The deadline to apply for the following fall academic year, is February 1st. We will begin reviewing applications on a rolling basis starting in September. Late applications will be considered, depending on availability of open seats in the program. Students will submit their application through the Common App to Stockton University and select the major for dual degree Physician Assistant. Students who meet the GPA and math score requirements (see below) will be invited for an interview. Interviews are conducted through a virtual meeting platform (students do not come to Stockton University for the interview). Students who are accepted to the program can reserve a seat in the program once their contract and deposit is returned. In the event that all seats in the program have been filled, the contract and deposit can reserve a position on the waitlist.
The BSHS/MSPA Program is rigorous, and admission is highly competitive. Successful applicants are academically strong students, especially in the sciences. We recommend submitting SAT or ACT scores; however, these are not required to be consideration for admission. Because of the required freshman classes, students who apply to the BSHS/MSPA program must demonstrate minimum math proficiency. This can be demonstrated by providing a SAT Math score of ≥ 570, or an ACT Math of ≥ 24, or an Accuplacer AAF of ≥ 260. The Accuplacer can be taken through Stockton University; it can be completed online, so students do not need to come in person to Stockton University (contact the Admissions Office for more information). Students must have an unweighted high school GPA of 3.7 or higher. Volunteer or shadowing experience, in any aspect of health care, is strongly encouraged; applicants with these experiences will be given preference during admission consideration. An understanding of the role of the Physician Assistant is expected. To be admitted to this program, candidates must be able to meet the Thomas Jefferson University Physician Assistant Technical and Professional Standards.
Please view the Student Highlights and Student Experiences pages (on right of web page) to learn more about student activities and what our students are saying about the program.
Program Information
Student Highlights and Experiences
BSHS-MSPA Dual-degree Coordinator:
Kerri Sowers
Associate Professor of Health Science
kerri.sowers@stockton.edu
F-211b
609-652-4418
*Internal transfer applications will not be accepted for Spring 2022 as there are no available seats in the program.