International Travel Team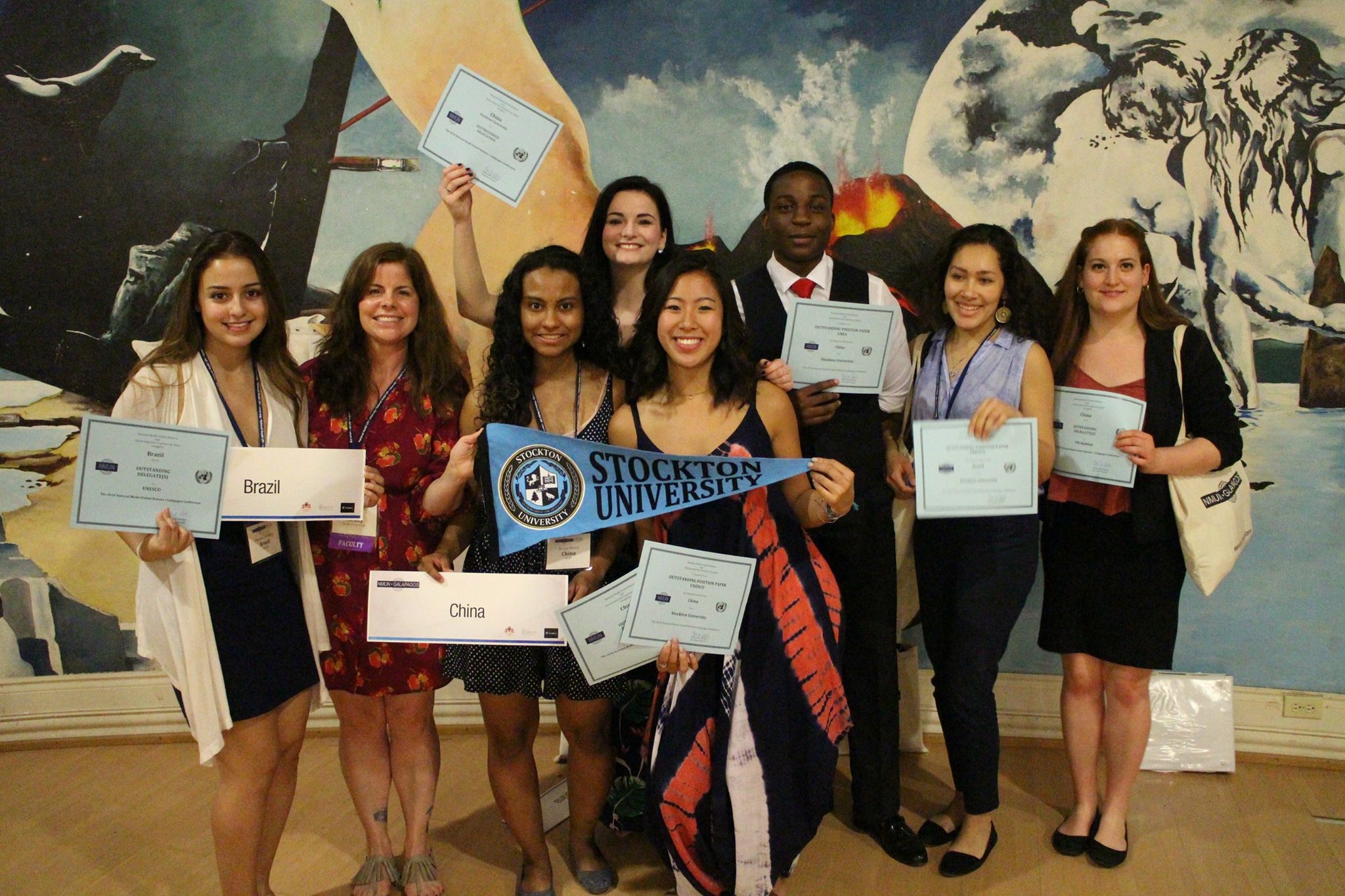 Mission of the International Travel Team
The foundation of the International Travel Team is the premise that complex global challenges need interdisciplinary approaches and we work towards that goal by providing the following skills to students:
Training in negotiations
Conducting research on existing global policies
Learning to behave like a professional in a global setting
Practicing diplomacy by engaging in negotiations within the UN framework
Learning from experts, civil society, and other stakeholders about a variety of perspectives and approaches to solving complex global challenges
Working effectively in groups
Building skills in communication (written and oral)
Developing intercultural competencies in attitudes and skills

[

source

]

Developing oneself as a Global Citizen
Therefore, we seek students from a variety of majors to work on global challenges in their area(s) of interest. In the past, Nursing students have served on the World Health Organizations (WHO) committee, Sustainability students have served in the UN Environment Programme (UNEP), Environmental Studies students have served on ECOSOC and UN-Habitat, Health Sciences students have served on UN High Commissioner for Refugees (UNHCR) and the Committee on the Status of Women (CSW) discussing refugee camps and women's rights, CRIM students have worked on transnational crime and arms control treaties in the General Assembly (GA), Physics students have focused on using expertise from the scientific community to inform work in the GA, POLS Pre-law students have served on Non-Proliferation Treaty committees dealing with international law, and several pre-med (BIOL) students have served on the Security Council, Committee on the Status of Women, and United Nations Environment Assembly (UNEA).
---
Upcoming Conferences
NMUN-China 2018: "At NMUN•China, delegates will focus on pressing global issues while marveling at more than 2,000 years of Chinese civilization. Xi'an is a modern city of 8 million inhabitants that also embraces its history as an ancient capital at the start of the Silk Road. The cultural tours include visits to two UNESCO world heritage sites: the first emperor's Terracotta Army (200 BCE - Qin Dynasty) and the Buddhist Big Wild Goose Pagoda (7th Century - Tang Dynasty), as well as the markets and Muslim quarter dating back to Marco Polo. Sessions will be held in partnership with Northwestern Polytechnical University which is celebrating its 80th anniversary in 2018." [1]
2019: NMUN•Germany (Erfurt): 23 Nov.-1 Dec
2020: NMUN•Japan (Kobe): 22-29 November
2021: NMUN•Czech Republic (Olomouc): 20-28 November
---
International Travel Team Application
INSTRUCTIONS TO APPLY:
1. Complete the electronic application below before Friday March 2, 2018 end of day (5pm).
Students: Please Complete this Application
2. Request TWO recommendations by sending this link with the electronic form below. These are also due on Friday March 2, 2018 end of day (5pm).
Recommenders: Please Complete this Electronic Form
Interviews will take place the week of March 5th.
Criteria for Selection:
A 3.0 minimum GPA or an explanation of academic achievement.

Evaluation of essays to assess skills in research, written communication, and ability to synthesize large amounts of information into a coherent, evidence-based argument. Citation and formatting should follow guidelines established by the Monkey Cage blog here: "

Contributors' Guide

and

Ethics Code

".

Assessment of ability to succeed in an international academic competition based on a description of relevant experiences that might prepare you to successfully represent a non-U.S. country, research global policies, effectively communicate (written and verbal), work with people from a variety of backgrounds, and overall function as a professional in a global setting.

Personal interest and commitment to solving complex global challenges from an interdisciplinary approach is strongly weighted.

The degree to which someone will benefit from this unique learning experience, as described in the application and in recommendation forms.
Holistic evaluation of applicants from both recommenders.
Requirements for successful applicants:
Enrollment in GSS 2635: UN Experience in Fall 2018. The Fall 2018 schedule for this class will be 2:10pm-3:25pm on Monday and Wednesday. You will also be required to attend 2-3 mini-simulations with the Model UN student club on Thursday 4:30-5:50pm.
Draft and edit sections of an e-book of pictures, journal entries, experiences, skills, and lessons learned within 60 days of travel, to be distributed to the Stockton community (see the right side on past conferences for examples).
Attendance at all required pre-conference and post-conference sessions for the class (no tolerance policy).
Participation in ALL conference-related events while abroad (no tolerance policy).
Attendance at a Model UN Simulation for local high school students on a Saturday in October 2018 in celebration of UN Day on October 24th.
Willingness to serve as a guest speaker in classes in Spring 2019 following travel to discuss your experiences with other students (dates TBD based on class schedules).
Participation in Day of Scholarship in Spring 2019 and/or Day of Service to present your research and resolutions from the conference and/or service learning experience (date TBA).
Past Conferences
NMUN-Galapagos 2018
In January 2018, a team of 7 students (Alejandra Londono, Jessica Cathcart, Bright Waife, Rebecca Hillbert, Nube Munoz, Kassandra Vega, and Leighanna Ritter) represented China on 6 commitees and Brazil on 1 committee. The Chinese delegatation earned a Distinguished Delegation award and several individual students earned additional awards in committees. Leighanna Ritter (China-UNESCO) earned a Best Position Paper award and Outstanding Delegate award, Rebecca Hilbert (China-UN-Habitat) earned an Outstanding Delegate award, and Bright Wiafe (China-UNEA) earned a Best Position Paper award. For Brazil, Alejandra Londono (UNESCO) earned both an Outstanding Delegate and Best Position Paper award.
NMUN-Japan 2016


View FlipBookIn November 2016, a group of 8 traveled to Kobe, Japan to represent the UK. Our Security Council (Rich Nuccio and David Yoon) and General Assembly First Committee (Maryam Sarhan and Dominic Tierno) delegates earned Outstanding Position Paper awards, UNHCR (Angelo Bechara and Nicole Mit tchell) earned Outstanding Delegates in Committee, and the entire group (Josh Battaglia, Angelo Bechara, Daniel Correa, Nicole Mitchell, Rich Nuccio, Maryam Sarhan, Dominic Tierno, and David Yoon) earned Distinguished Delegation.
NMUN-Rome 2014


View FlipBookA team of 8 Stockton students traveled to Rome to represent Nigeria and the Holy See at the National Model UN (NMUN)-Rome conference in November 2018. There, we earned the following awards: Outstanding Delegation for the Holy See, Distinguished Delegation for Nigeria, and Best Delegates in the General Assembly. Florence Zappile earned an award for Best Cherub.