Leadership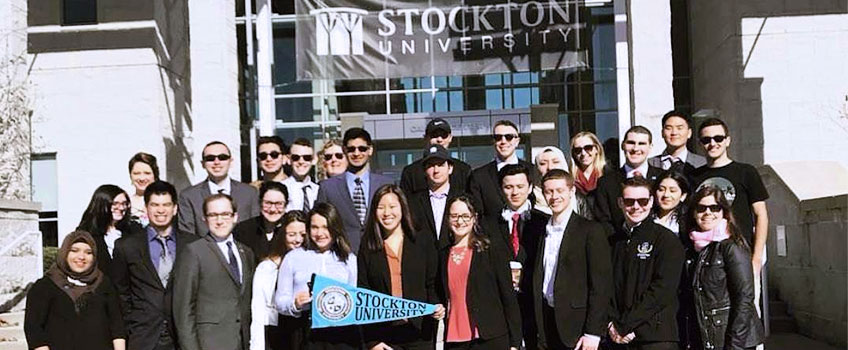 Adjoa Cofie
Secretary-General (President)

Adjoa Cofie is a senior, pursuing a LIBA degree in Global Sciences of Women's Health with a concentration in Pre-medicine. She has been an active student on campus, as she currently serves as the Secretary for the African Student Organization, Secretary for Model United Nations, Class of 2019 Representation Alpha Lambda Delta National Honor Society. Adjoa Cofie is also on the board of the Public Relations Committee on Student Senate, member of The Activity Leaders of New Students, and a student worker for the Office of Student Development. Passionate about women rights and education, Adjoa served on the Commission of the Status of Women representing Finland during the NMUN 2016 conference. Adjoa is an active member of the Stockton community and will travel to Xi'An, China in November 2018 with the Model UN International Travel Team.
---
Olivia Norton
Deputy Secretary-General (Vice President)
Olivia Norton is a senior at Stockton, currently pursuing a degree in Economics. Olivia is an active member of the Stockton community and will travel to Xi'An, China in November 2018 with the Model UN International Travel Team.
---
Syeda Sandjidha
Secretary-General for Management (Secretary)
Syeda Sanjidha is a junior and is pursuing a B.A. in Criminal Justice and a B.A. in Language and Culture Studies in the French concentration alongside a minor in Women's, Gender, & Sexuality Studies. She is interested in studying the intersectionality of crime and gender, and hopes to work in victim advocacy. Syeda is currently a student senator on the Public Relations committee for Student Senate and is involved in Theatre Club and Muslim Student Association. She represented Austria for Commission on Narcotic Drugs, and Luxembourg & India for the UN High Commissioner for Refugees in past NMUN conferences. Syeda will also be a part of the Model UN International Travel Team for the November 2018 NMUN conference in Xi'an, China.
---
Wade Van Orden
Secretary-General for Finance (Treasurer)
Wade is a sophomore He is a senior and his major is in Business Studies with a concentration in Accounting. Ali joined the club in 2017 and attended his first conference in Washington D.C., where he represented the Luxembourg.
---
Florie Hulbert
Secretary-General for Communications and Public Information (Public Relations)
Florie is a Sophomore at Stockton University.
---
Dr. Tina Zappile (Dr. Z)
Faculty Advisor


Dr. Tina Zappile is an Associate Professor of Political Science at Stockton University (NJ) where she teaches international relations, international political economy, international law and organizations, Consumer Culture, and Go Global!- an online interdisciplinary summer course for incoming first-year students. She is also the lead author of Smart Sparrow and American Association of State Colleges and Universities (AASCU)'s Global Challenges course. Her research on trade agreements, international financial institutions, and voting in international organizations has appeared in World Development, International Studies Perspectives, Global Economic Governance and the Development Practices of the Multilateral Development Banks (edited volume), Democratization of International Institutions Report (edited volume), Double Helix, and Journal of International Political Theory. She is also a mom and USMS swimmer (open water & pool).