Dr. Vera King Farris Fellowship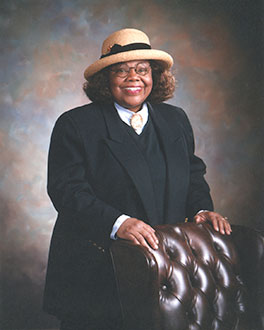 The Stockton University Office of the Provost is pleased to announce the call for applications for its annual Dr. Vera King Farris Fellowship program. The Dr. Vera King Farris Fellowship program provides funding and an environment to teach, write, and network for promising scholars committed to diversity in research and curriculum in public higher education.
The Dr. Vera King Farris Fellowship program is named after the third president of Stockton University, who served the institution for two decades. A native of Atlantic City, New Jersey, Dr. Farris oversaw impressive growth at Stockton; she increased overall enrollment by 40%, SAT scores by 22%, admission of students of color to 17%, and added the first six Master's programs, including the first MA in Holocaust and Genocide Studies in the United States, during her tenure. Dr. Farris, a renowned leader, received many awards for both academic and administrative accomplishments, in honor of which the Board of Trustees renamed the University's main road from College Drive to Vera King Farris Drive following her death in 2009. In addition to her work in higher education and in science, Dr. Farris was dedicated to the advancement and the equality of all people and cultures, to the study of holocausts and genocides across the globe, and to her work with her church. In her memory, the Dr. Vera King Farris Fellowship awards deserving scholars an opportunity to showcase their research and to teach on a campus fully committed to diversity and inclusion.
Fellows will work with Stockton University faculty and students during the term of the Fellowship. An innovative public liberal arts institution known for its interdisciplinary approach to teaching and learning, Stockton is ranked among the top ten public Master's institutions in the Northeast. The campus, set in the Pinelands National Reserve of southern New Jersey and in close proximity to the Jersey shore, is conveniently located near four urban areas: Philadelphia, New York City, Newark, and Atlantic City. The institution continuously aims to build a welcoming and inclusive community of faculty, students, and staff with diverse talents and backgrounds and seeks applications from those with a desire to learn from and contribute to such a community. The University offers Fellows many opportunities for living in and researching urban as well as suburban environments and for introducing students to urban as well as suburban engagement, community involvement, and service learning. Graduate students or recent PhD/EdD recipients, including those from underrepresented groups, are encouraged to apply for this Fellowship.
---
Position Responsibilities and Term
Applications are welcome for scholars in all major academic programs offered at Stockton University. In addition, Stockton University has a number of interdisciplinary minors that offer candidates potential sites for collaboration. These minors include: Africana Studies; Global Studies; Women, Gender and Sexuality Studies; Latin and Caribbean Studies; Jewish Studies; and Holocaust and Genocide Studies.
This call for applications is for 2019-2020 Dr. Vera King Farris Fellows. Fellowships are for the academic year and are nonrenewable.
Successful post-doctoral applicants will receive a salary comparable to that of a Visiting Assistant Professor; successful pre-doctoral applicants will receive a salary comparable to that of an Instructor. In addition, Fellows will receive office space equipped with computer technology, access to Stockton University facilities, and opportunity for mentoring by a Stockton University faculty member. Fellows are expected to teach two courses in their area of expertise each semester, and are expected to participate in a significant project such as a creative/research project, curriculum development project, community engagement project, or comparable activity. Fellows will make at least one presentation on campus that showcases their work and agree to complete an exit interview.
---
Eligibility and Application Process
Advanced graduate students and recent PhD/EdD recipients from regionally accreditated institutions are eligible to apply for this Fellowship. Graduate students should be close to finishing the dissertation, and recent PhD/EdD recipients should be no more than two years beyond graduation.
Applicants must submit a CV, cover letter, syllabi for two courses, and contact information for three references. In the cover letter, applicants should describe their background, approach to teaching, interest in Stockton University, the applicant's anticipated significant project, and other contributions the applicant hopes to make while at Stockton University.
FYI: if selected, Fellows will be asked to provide official undergraduate and graduate transcripts and to undergo background checks.
Applicants should submit all application materials electronically through Stockton's Human Resources website; click Job Seekers. The due date for applications is January 20, 2020.
Please explore the Stockton University website to learn more about the University's academic programs, mission, and values.
For additional information or answers to questions, please contact Carra Leah Hood, Associate Provost, 609-652-4606, carra.hood@stockton.edu.
---
Current and Past Fellows