Arianna Ferri '20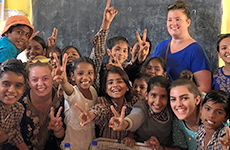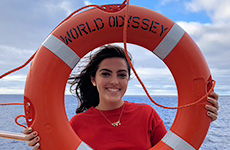 Why did you choose Stockton?
I chose Stockton because of its location, affordability and the Health Science program.
Why did you choose your major?
I wanted to explore the Health Science field because of all the different career paths it offers that would lead me to my goal of helping others. After seeing occupational therapists interact with my grandmother, I became more focused in that particular field.
You spent a semester at sea. Tell us about your experience and the places you visited.
The ship set sail from Germany, visiting Spain, Ghana, South Africa, Mauritius, India, Myanmar (Burma), Vietnam, China, Japan, Hawaii and California, where we disembarked. Traveling on a ship and exploring new continents was all a new adventure for me. Yes, I did get sea sick in the beginning, but soon after I got my "sea legs."
While at sea, I attended classes, which were held in dining or gathering areas, and there were also speakers or activities each night that kept us educated and occupied. I balanced my itinerary with sightseeing, service, home-stays, education and fun.
I learned how to cook Valencian paella, when I was in Spain. In Mauritius, I became more conscious of the effects of human pollution on our oceans after witnessing so much dead coral. In India, while I was able to see the stunning Taj Mahal, I also spent two days in a fifth grade class in a village, teaching them English, while I received a lesson on Hindi. In Myanmar, I went to an elephant retirement camp, cleaning and feeding elephants, while learning that riding an elephant is not healthy for the animals because of their back structure. In Vietnam, I took in its natural beauty while being rowed down the Tam Coc River, all while being amazed at how they used their feet instead of hands to row.
What was the most breathtaking view during your semester at sea?
Many moments took my breath away, including when we drove into the city of Accra, Ghana, when the feeling of being in an underdeveloped nation hit me. In South Africa I witnessed the starriest night I think I will ever see. Other highlights were being driven around in a Tuk Tuk through the streets of New Delhi, walking through an arch to be stunned by the sight of the Taj Mahal that pictures will never do justice, the moment I took my first step onto the Great Wall of China, and just being out in the middle of the ocean, seeing rainbows and shooting stars frequently.
What are your career goals?
I want to become an occupational therapist, working with older adults. I would like to explore other certifications, such as hand therapy and feeding therapy. I plan to take my career abroad, to expand or improve on OT practices in other parts of the world.
What activities are you involved in?
I am president of my sorority, Delta Phi Epsilon, and a Global Engagement Ambassador, helping future study abroad students through the process. I have participated in Alternative Spring Break, where we build homes with Habitat for Humanity.
---