Aubrey Corbett '14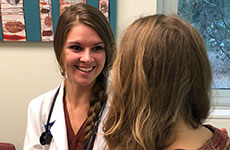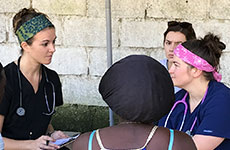 Why did you choose Stockton?
After attending another school in Florida for two years, I was looking to transfer somewhere that better fit my career path. Upon moving back to New Jersey, Stockton was high on my list for places to finish my undergraduate degree. I chose Stockton primarily because of its environmental focus and wide variety of courses. It was difficult for me to find a school that offered biomedical science courses as well as classes in medicinal plants and mind-body therapies. The quiet setting of the University nestled in the woods, as well as its proximity to my hometown, made it the perfect setting for me to study.
Why did you choose your major?
Initially, I chose my major because it allowed me to complete all of the prerequisites to go into naturopathic medical school. So, I guess the better question would be why I love biology and the way it applies to the human body. My initial studies were in Psychology, as I was hoping to never take another science course again. After taking a couple of courses at Stockton, I recognized a knack I had for science, and my professors encouraged me to pursue it. Without their support and guidance, I would never be where I am today. Combining my Biology major with the Holistic Health minor allowed me to recognize the importance of evidence-based therapies in the naturopathic medicine world that I am in today.
What did you get out of your academic program?
My favorite part was probably the ability to work in medicinal chemistry research. I connected with my organic chemistry teacher early on and explained my interest in herbal medicines and their efficacy. She was swift to help me develop a research project that gave me great insight into the rigors of research and how we can use it to apply it to the human body. The holistic health minor allowed me to pursue my interests in integrative medicine. I loved that they encouraged courses in meditation and other mind-body therapies – taking those classes seemed to have a high correlation with my performance in other classes too!
How did Stockton prepare you for the next chapter of your life?
Stockton prepared me by offering a wide range of courses that both challenged me and encouraged me to pursue my dream of being an integrative medicine doctor. Having the opportunity to participate in medicinal chemistry research at an undergraduate level made me a standout applicant during my medical school interviews.
What are some of the projects you are involved with as a medical student at National University of Natural Medicine in Portland, Oregon?
I have recently transitioned into my fourth and final year in medical school. I have been working in the ER which has been a stressful and exciting experience for me to see both sides of medicine - healing and preventative care (Naturopathic Medicine) and urgent medical care (ER) often due to patients who do not engage in much preventative care. I am training as a primary care physician in modalities including pharmaceuticals, herbal medicines, hydrotherapy, physical medicine, nutrition and minor surgery. In December 2017, I traveled to Cape Haitian, Haiti, with Naturopaths Without Borders (NWB). NWB is a nonprofit organization that brings medical care to various locations around the world, primarily in Haiti and Thailand. We spent five days setting up mobile clinics in which we would bring medical supplies (pharmaceuticals, vitamins, minerals, herbal medicines, homeopathics and wound care equipment) in suitcases, hop in the back of a truck, and travel to different locations that have the least access to care. In just those few days, we were able to see over 200 Haitian people in need of medical care. I am additionally the current president of the Naturopathic Medical Student Association, where I work to connect students to networking and professional development opportunities, as well as raise scholarship money so that they can attend various medical conferences.
What are your future plans?
I plan to practice as a naturopathic doctor in New Jersey and teach students with similar interests. During my spare time, I hope to continue to travel to Haiti to work with Naturopaths Without Borders to bring medical care to an underprivileged population in need of clean water, food and health care.
---