Edward Caroselli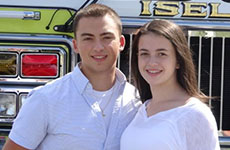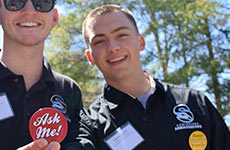 Why did you choose Stockton?
I chose Stockton because of the inviting and friendly environment surrounding the campus. The small classes and one-on-one help from professors was appealing to me as a student. Stockton had so many opportunities to offer through leadership and my academic career. Both inside and outside of the classroom, Stockton has a lot to offer new students.
Why did you choose your major?
Since high school, I have been a volunteer firefighter. Being a firefighter has helped me grow into the person I am today. It is not an easy job but the physical and emotional toll is empowering. Helping others and solving problems is what I live for. Which is why I decided to choose Criminal Justice as my major. I have always dreamed of being able to help my community and criminal justice opens up a world of opportunities to follow my dreams.
What are your career goals?
My career goals are to graduate early and become a K-9 handler with a sheriff's office. Starting my career in the warrant division would be a great experience. I was heading down the wrong path at a young age when I took a chance and started firefighting. Providing other kids with the support I received as a young kid would be rewarding. I am excited to work my way up the ranks and start my career in criminal justice.
What are you involved in on campus?
I am involved in the Criminal Justice honors society, Omicron Delta Kappa Honors society, Admissions Ambassador, Operations Assistant, and Brother of Kappa Sigma.
What do you want to do after you graduate?
I've realized that health care with a focus in diabetes is the perfect route. Thanks to Stockton, I have worked with many diabetic students and patients. The connection I share with other diabetics is something I cannot put into words. If I can pursue a career that provides the ability to help fellow diabetics, I see myself being truly satisfied long into the future.
Internship and Volunteer Work:
Stockton's Washington Internship Program, Middlesex County Sheriff's Office, Iselin Volunteer Fire Company No. 1, Junior police academy
---