Gina Fagliarone '19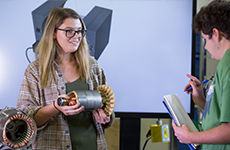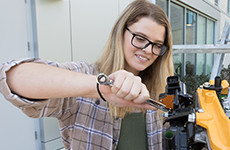 Why did you choose Stockton?
I chose Stockton because of the small-school feel. I loved the community atmosphere and the relaxed nature of the campus. I also quickly noticed how involved the faculty is in their students' learning and how much experience they bring to the table.
Why did you choose your major?
I originally chose Environmental Science as my major because I feel that environmental issues are a priority to study to make a change. Halfway through my time in college my interest grew into Sustainability because of the hands-on projects, wide-range of topics and real-world applications. Both majors appeal to me, and I love the range of technical skills as well as systems-thinking skills that both continue to teach to me.
What are your career goals?
I hope to work in a career that allows me to use the critical analysis skills that I have developed here at Stockton. I am currently exploring options in energy management and planning, as well as sustainable agriculture.
What do you hope to get out of your academic program?
I hope to gain technical skills, as well as broader-thinking skills in order to develop as a professional in my field of study creating a more sustainable future.
Extracurricular Activities/Work Experience on Campus:
I have worked as a teaching assistant for Organic Chemistry lab, teaching assistant for Sustainable Technology lab, and a lab technician for the Sustainability Department. I have also been a student intern at the Stockton Sustainable Farm and was hired as a student worker to assist in assembling and disassembling equipment to move over to the new building. I held three positions on the Equestrian Club's board, including philanthropist, treasurer and captain.
---