Jared Lewis '18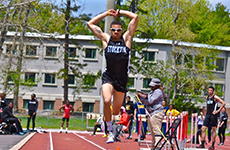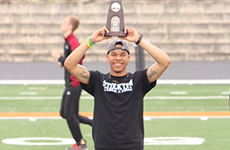 Why did you choose Stockton?
I chose Stockton because the University offered the opportunity to pursue my goals both in the classroom and on the track at the Division III level. Stockton felt like the best fit for me to study hospitality and still jump competitively.
Achievements and Awards:
I've earned a total of seven All-American titles in my three years of competition at Stockton, setting a record for the most in the University's history. I have been named the 2016 and the 2017 Arthur Ashe Jr. Sports Scholar, an academic honor given to student-athletes of color by the publication Diverse: Issues in Higher Education. Also in 2017, I was named the NCAA Indoor Triple Jump National Champion.
Additional Honors:
New Jersey Athletic Conference (NJAC) Athlete of the Year; Stockton Male Athlete of the Year; nine NJAC championship titles and a total of nine events; nine NJAC First Team honors; 11 NJAC Field Athlete of the Week awards; All-Region honors for both the indoor and outdoor seasons from the U.S. Track & Field and Cross Country Coaches Association; NJAC All-Academic Honorable Mention; NJAC Most Outstanding Athlete for both the indoor and outdoor seasons.
What are your career goals?
I hope to become an event planner at a major corporation, but my dream job is head track & field coach at a Division I university.
Internship and Volunteer Work:
Intern at Atlantic City Your Way, a vacation planning service; 2017 summer intern for Legends Hospitality at the BB&T Pavilion, Camden, N.J., a concert venue; assistant coach at Deptford High School.
---