Jasmine Stone '21
Jasmine Stone
Hometown: Piscataway, NJ
Class Year: 2021
Major: Biology
---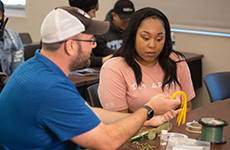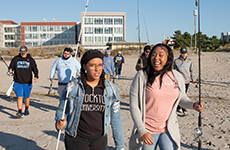 Why did you choose Stockton University?
Stockton welcomed me with open arms and was extremely helpful in all areas from choosing my housing to picking classes when I transferred from another school. I wanted to attend a university that would give me the full college experience I was longing for. While reviewing and becoming familiar with the opportunities Stockton has for science majors, I knew this is where I belonged. This experience at Stockton has truly been extraordinary. I know I made the best choice.
Why did you choose your major?
My initial major was Marine Biology because I have a love for aquatic animals and concern for the environment. The time I spent at Stockton made me realize I wanted to continue my studies in the sciences but help people instead.
What have you gotten out of your academic program so far?
Biology is the study of human life. And life shouldn't be taken for granted. By progressing in my studies for science I will continue to meet scientists and researchers who are just as passionate as I am. I currently work as a chemical lab prep assistant at Stockton and enjoy the experience of a positive laboratory environment.
Describe your experience in the Ecology and Saltwater Fishing class at Stockton Atlantic City.
Taking Dr. (Adam) Aguiar's class was truly an amazing experience. We learned about the different types of rods, fishing hooks and the best ways and locations to catch species such as Atlantic menhaden, fluke and haddock. I also learned the different types of technology in tagging implants and knot tying. Dr. A's passion for fishing shows. He allowed me to share his excitement by going feet away to our outdoor classroom—the beach—where I learned how to cast with conventional and spinning rods. Even though Ecology is an early morning class, I was excited to go because of the learning atmosphere.
What opportunities have you had at Stockton?
I have had the opportunity to volunteer for Stockton Coast Day two years in a row. This is a community event that allows people of all ages to learn about the local fisheries, wetlands and beaches. I also volunteered for AAUW's Summer camp Tech Trek. This was an amazing opportunity to see younger girls who are interested in STEM excel in different workshops.
How is Stockton preparing you for the next chapter of your life?
Stockton allowed me to realize I chose the right path to experience the infinite world of science. This next chapter will allow me to appreciate everyone I have crossed paths with during my time at Stockton. I will take the lessons, wisdom and knowledge and continue to hold my head high knowing I am not on this journey alone.
What are your career goals?
My goal is to make a positive impact on the research community with breakthroughs for Tourette syndrome and hypoglycemia. I also would like to research other related conditions such as cancer and diabetes.
---