Jesse Amesbury '13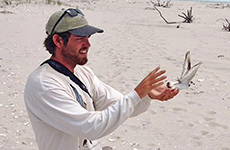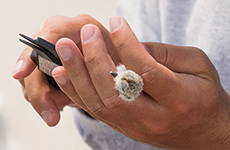 Why did you choose Stockton?
I chose Stockton for the location as well as the courses they offered. Growing up in Northern New Jersey and vacationing every summer in Cape May, I was always drawn to the plethora of birding locations around Stockton including Edwin B. Forsythe NWR, as well as the entire Cape May peninsula. Even campus itself was a big draw as the birdwatching around Lake Fred was phenomenal. Attending Stockton allowed me explore the birds of south Jersey while pursuing my education in a field I wanted.
What was your most memorable experience as a student?
My most memorable experience was participating in intramural sports. Being an athlete my whole life, I really enjoyed the chance to play many different sports in an organized league with all of my closest friends. I may not have always won, but I definitely had a great time.
What was your favorite class and why?
Ornithology, or the study of birds, is the easy answer, since I have been in love with birds my entire life. However, I did enjoy Fisheries Management because I was able to learn a ton of information about a topic in a similar field, that I knew very little about.
You were a raptor counter at Hawk Mountain, which has been called nature's greatest air show. Tell us about your experience there.
Counting raptors in Pennsylvania at Hawk Mountain was an unforgettable experience. On good days, watching hundreds, sometimes thousands of raptors migrate south along the Kittitany ridge at eye level is a breathtaking spectacle. All while taking in a beautiful 270 degree view of the forested valley below, and watching the foliage turn throughout the course of the fall. You can't ask for a better office than that. One of my favorite experiences at Hawk Mountain was September 16, 2018 when I counted 3,308 Broad-winged hawks migrate past that day. That's 300 hawks per hour! During that same 2018 season I counted a record number of 552 Bald Eagles!
On top of witnessing spectacular raptor flights, I was able to share this with thousands of members of the public and educate them on the importance of conservation in our region. If you haven't visited Hawk Mountain before, you absolutely need to.
You monitored endangered Piping Plovers on Long Beach Island. Tell us about your field work and what it's like working as a biologist at the Jersey Shore.
Piping Plovers are an endangered species of shorebird that nest on beaches in New Jersey. Working with them has been my favorite professional experience since graduating. I get to spend every day on the beach. What's not to love? My duties are to monitor the birds to determine overall productivity and to help understand population dynamics. To do this, I first need to locate where the birds lay their eggs, and perform daily nest checks to make sure the nest is still active and not destroyed. Once the eggs hatch, I then must find and count the adorable chicks everyday until they are old enough to fly and begin their migration south to the Caribbean for the winter. By season's end, my monitoring efforts will determine how many nesting pairs there are and how many chicks they hatched allowing researchers and biologists to properly manage the beaches and keep their population stable.
After spending hundreds of hours on the beach and watching these birds navigate the multiple challenges they face each and every day in order raise their family is fascinating and even inspirational. Whether it is luring off predators like foxes by pretending their wing is broken to distract the predator, incubating their eggs during severe thunderstorms when they are being pelted by blowing sand and driving rains, or migrating thousands of miles year after year to the same stretch of beach, Piping Plovers are the irreplaceable treasures of our beaches. Despite all the positivity Piping Plovers give me, it certainly takes thick skin to work with Piping Plovers because many beachgoers find Piping Plovers an inconvenience, as many sections of beach are temporarily closed, but knowing the small positive change I am making in our natural world, makes it all worth it.
What projects are you currently involved in?
I am the hawk counter at Cape May Point State Park's hawk watch platform this season, monitoring migrating raptors as they prepare to cross the Delaware Bay on their southbound flight. I wrote about my experience so far on the New Jersey Audubon blog.
What are your hobbies and how did you get involved in campus life as a student?
If you haven't already noticed, birdwatching is my number one hobby. I have been doing it my entire life. I also enjoy bird photography. You can check out my photos on Instagram at @j_amesburyphotos for more photos of birds here in NJ. Another big aspect of my life are sports. If I'm not birdwatching, you can find me playing basketball.
---