Kat Wentzell '18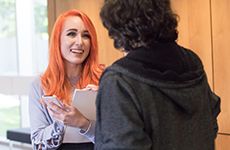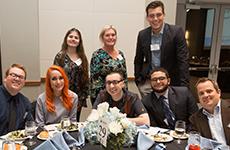 Why did you choose Stockton?
Stockton was the only school I visited that felt like "home." I saw kids playing instruments out in the quad, sticky notes in the bathroom telling me not to give up, and student-made art at every corner. The school just had a really friendly and inviting vibe that I liked; I felt welcome from day one.
Why did you choose your major?
Honestly, I picked it because I had no clue what I wanted to do post-graduation, and I felt like it was a degree that could be very useful in today's society, and would still allow me to be creative. I soon fell in love with every aspect of Communication Studies, and I immersed myself in all it had to offer.
What are your career goals?
I want to land a job doing public relations, advertising and/or social media management for a company, preferably one in the music industry.
What have you gotten out of your academic program so far?
I have received the best education I could have asked for. Every professor in the program genuinely cares about his/her students, even taking the extra step to learn every name and personality. There are also countless opportunities offered by the program, from internships to service to extracurriculars that students can take advantage of to boost their resumes, as well as to build their skill sets and network with new people.
How is Stockton preparing you for the next chapter of your life?
Stockton has taught me many important life skills, such as public speaking, networking and professionalism. Stockton has also taught me how to be confident in myself and my abilities.
Extracurricular Activities/Work Experience at Stockton:
I was an Editing Intern for the SoJourn magazine, I interned with University Relations & Marketing for the Stockton 50th Anniversary Internship, and I served as an intern for the Communication Program in charge of designing and creating content for its new newsletter. I was a photojournalist for a Philly music magazine for a few years, thanks to the help of one of my professors. I'm also Assistant Editor of the Stockton Argo newspaper, PR Consultant/Social Media Manager of the Stockton Horror Society, President of the Stockton Advertising Club, and an active volunteer of the Eastern Service Workers Association (ESWA).
---