Matt DeCicco '19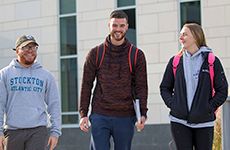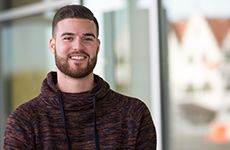 Why did you choose Stockton?
I chose Stockton for one major reason: I love the school. I visited four colleges before visiting Stockton my senior year of high school. I was very overwhelmed by the college selection process, but once I visited Stockton, I knew it was the place for me. I felt so at home on the campus grounds on my first visit that I immediately pictured myself attending Stockton for the next four years.
Why did you choose your major?
I chose hospitality because I have worked in the field since the age of 15. I have been very lucky and have had the ability to travel outside of the U.S. many times to experience different parts of the world. Stockton's HTMS professors are top notch. They strive to make every student succeed and have all held outstanding positions in the industry prior to teaching. Also, Stockton's proximity to Atlantic City was a major factor. I would love to help bring Atlantic City back to the tourism juggernaut it once was.
What have you gotten out of your academic program so far?
The two main things I have gotten out of the HTMS program are work ethic and passion. Nothing is handed to you in life, especially in the hospitality and tourism industry, and all of my professors have instilled in me the work ethic needed to do great things within the industry. Although you can't really learn passion, the professors of the HTMS program lit the fire inside me that I did not know I had. Whether it be food/beverage, hotel management or eco-tourism, the professors make sure everyone knows what they are passionate about. Their passion for teaching about the industry rubbed off on me.
What are your career goals?
Gordon Ramsay and Anthony Bourdain are idols of mine. Ultimately, I would love to pursue a career in traveling and telling the world about all the different cultures and food that exist. If that does not work out, I would love to be a restaurateur and own my own bar/restaurant franchise.
Extracurricular Activities/Work Experience at Stockton:
Last summer I completed my hospitality internship at Steel Pier Amusements in Atlantic City as a Special Events Coordinator and Food/Beverage Manager. This was truly an amazing experience because it was my first management position. I ran all of the special events, such as weddings, family reunions and fundraisers. I also served as a food and beverage manager to all of the food and bar stands the pier has. This was challenging for me because I was the same age or just a little older than the employees I managed. However, I quickly became comfortable in the role and learned so much by managing employees around the same age as me.
---